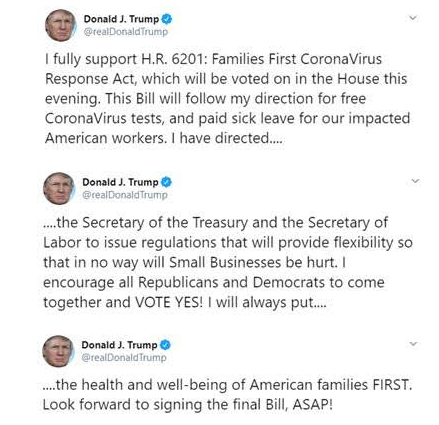 Following extensive negotiations with Congress, President Trump announced his support for legislation to help American workers and families impacted by the coronavirus. 
The President is committed to ensuring American workers and families have the support they need, and this legislation follows through on that.
The Administration engaged in extensive discussions with Congress to secure key provisions and changes in language.
As a result of the Administration's efforts, substantial improvements were made from the initial bill.
This delivers on President Trump's plan to help American workers and their families who have been harmed by the coronavirus outbreak.
The legislation establishes tax credits to provide paid sick and family medical leave for employment interruptions related to coronavirus.
This will provide support for employees with coronavirus, under quarantine, caring for someone affected, or with children whose school has closed.
Eligible employers will receive a dollar-for-dollar tax credit for any paid leave they provide under this program.
Importantly, employees will be able to receive the paid leave directly from their employer, rather than an inefficient government run program.
We are partnering with businesses, not imposing an unfunded mandate on them.
The legislation also incentivizes states to ease access to unemployment benefits, assisting Americans who may be unemployed due to the impact of the virus.
In order to help families and the most vulnerable, the bill provides funding and flexibility for emergency nutritional aid for senior citizens, women, children, and low-income families.
To protect the health of our citizens, the legislation provides free coronavirus testing for all Americans who need it.
This includes free testing through commercial insurance, Medicare, Medicaid, CHIP, Indian Health Service, and TRI-CARE.
Every American who needs a test, should be able to get a test regardless of their financial circumstances.
###