Just heard about an incredible effort underway that will strengthen the Republican Party. The "Precinct Strategy" is enlisting America First Patriots to their local County Republican Party committees, positions which are too often left vacant.
WATCH INFORMATION VIDEO HERE: https://rumble.com/vhx0sh-the-precinct-strategy.com-promotional-video-1-minute.html
If members of our Great movement start getting involved (that means YOU becoming a precinct committeeman for your voting precinct), we can take back our great Country from the ground up.
The Precinct Strategy, as explained by Dan Schultz at www.PrecinctStrategy.com, is a great way to restore our Republic by transforming our Party from currently at less than half-strength at the precinct level into a full-strength Get Out The Vote powerhouse—as it should be.
Make America Great Again!
Statement by Donald J. Trump, 45th President of the United States of America
What is happening in the City of Atlanta is nothing short of disgraceful. It's national news and a regional embarrassment. The good people of Buckhead don't want to be a part of defunding the police and the high crime that's plaguing their communities. However, RINOs like Governor Brian Kemp, the man responsible, along with his puppet master Mitch McConnell, for the loss of two Senate Seats and 2020 Presidential Vote, Lt. Governor Jeff Duncan, Speaker David Ralston, and State Senators Butch Miller, Jeff Mullis, and John Albers always talk a big game but they don't deliver. What good is having Republican leaders if they are unwilling to fight for what they campaigned on? Every RINO must go! Let the voters decide on the very popular City of Buckhead proposal!
ADVERTISEMENT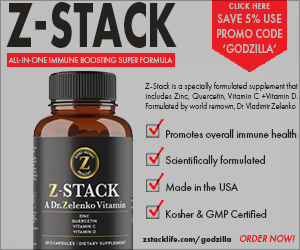 Dr. Vladimir Zelenko has been included in a group of doctors nominated for the Nobel Peace Prize for their role in addressing the coronavirus pandemic.
If the last 18 months have taught us anything it's that YOU have to take control of your own health. You can't rely on the government or big pharma. That's where Z-STACK comes in. Z-STACK is a specially formulated supplement that includes Zinc, Quercetin, Vitamin C, and Vitamin D. Formulated by Dr. Vladimir Zelenko the world-renowned doctor that President Trump credited with his successful early treatment protocol and his decision to take hydroxychloroquine. Go to https://zstacklife.com/godzilla and order TODAY!