In a new poll conducted by Remington Research Group, former State Representative and Trump-endorsed candidate Vernon Jones emerged as the clear frontrunner in the open race for Georgia's 10th Congressional District.
According to the poll, Jones leads the eight candidate field with 20% of the vote and a four-point lead over his nearest competitor Mike Collins at 16%, Paul Broun at 15%, Timothy Barr at 7%, David Curry at 5%, Alan Sims at 5%, Mitchell Swan at 4%, Marc McMain at 3%, and undecideds at 25%.
"What this poll shows is clear: the momentum in this race is on our side. The people of the 10th Congressional District want a Congressman who has earned the trust of President Trump, isn't afraid to fight against the Radical Left, and won't back down to the GOP Establishment. Despite every attack from the Fake News media and GOP Establishment, our campaign continues to connect with more and more Georgians every single day," said Vernon Jones.
This poll was conducted from April 10th-11th. It included a sample size of 703 likely GOP primary voters, with a margin of error of 3.7% with a 95% level of confidence. Since entering the race, Rep. Jones has surged nearly 20 points while previous frontrunner Mike Collins has shed nearly more than the same amount after previously polling at 35.1%.<
The Vernon Jones campaign is the only campaign in this race to have been endorsed by former President Trump, in addition to Mayor Rudy Giuliani, General Michael Flynn, and former GA-10 congressional candidate Patrick Whitt.
To view the results of the Remington poll, visit here: Trump-Backed Vernon Jones Leads Georgia 10th District in Tight Primary.
To learn more about the Remington Research Group, visit here: https://remingtonresearchgroup.com.
ADVERTISEMENT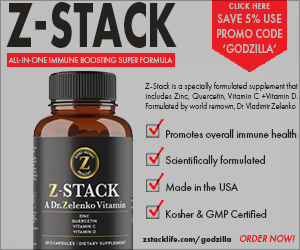 Dr. Vladimir Zelenko has been included in a group of doctors nominated for the Nobel Peace Prize for their role in addressing the coronavirus pandemic.
If the last 18 months have taught us anything it's that YOU have to take control of your own health. You can't rely on the government or big pharma. That's where Z-STACK comes in. Z-STACK is a specially formulated supplement that includes Zinc, Quercetin, Vitamin C, and Vitamin D. Formulated by Dr. Vladimir Zelenko the world-renowned doctor that President Trump credited with his successful early treatment protocol and his decision to take hydroxychloroquine. Go to https://zstacklife.com/godzilla and order today!