As crime explodes in major U.S. urban centers where Soros' funded District Attorneys have stopped arresting criminals and opened the door to immediate release, and city councils have cut funding for police, two progressive Democrats got their cars taken at gunpoint yesterday.
Well to Joe Biden's America.  
First, in suburban Chicago, one of the highest-ranking Democrats in the Illinois State Legislature was a victim of a violent crime. Illinois State Senator Kimberly Lightford (D) was with her spouse Eric McKennie in their Mercedes SUV driving in the village of Broadview. They were stopped by three men with guns and shots were fired.
Lightford is a vocal critic of the police, and has incessantly called for the dissolution of the police force in Chicago. Like all liberals who trade in blatant hypocrisy, what did they do when they were robbed at gunpoint? Did they call a community social worker for counseling? Of course not, they called the very professionals they claim the loathe: they called the cops.
Next up is U.S. Rep. Mary Gay Scanlon (D-PA), who represents south Philly. While leaving a meeting in FDR Park in Philadelphia, she was robbed of her car at gunpoint, too.
According to Fox News, "Police say Scanlon was approached by two black males, aged approximately 20-30, as she walked to her vehicle before they demanded she hand them the keys. Scanlon handed over the keys to her blue 2017 Acura MDX and one of the suspects drove away in it while the other drove away in a dark-colored SUV." Her phone and purse were also stolen.
Scanlon has been another progressive vocal proponent of police reform. The Hill described a bill she co-sponsored in the House earlier this year as: "Congress wants to make it easier for state and local governments to defund the police by instead funding mental health services and empowering them to respond to emergency calls instead of armed officers."
Like Lightfood, she called the police, not the mental health center, which she suggests other schmucks should do if robbed at gunpoint in Philadelphia. The rules are for thee, not for me.
ADVERTISEMENT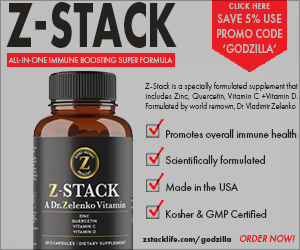 Dr. Vladimir Zelenko has been included in a group of doctors nominated for the Nobel Peace Prize for their role in addressing the coronavirus pandemic.
If the last 18 months have taught us anything it's that YOU have to take control of your own health. You can't rely on the government or big pharma. That's where Z-STACK comes in. Z-STACK is a specially formulated supplement that includes Zinc, Quercetin, Vitamin C, and Vitamin D. Formulated by Dr. Vladimir Zelenko the world-renowned doctor that President Trump credited with his successful early treatment protocol and his decision to take hydroxychloroquine. Go to https://zstacklife.com/godzilla and order TODAY!