Former U.S. President Donald Trump's warning that Germany's addiction to Russian gas would have extremely negative long-term consequences appears to have been proven prophetic, with officials in the country now warning of "chaotic conditions" and severe economic recession should they lose access to Moscow's supply.
The warnings come as Germany starts to fret that when the Kremlin turns off gas on July 11th to do annual maintenance on the gas line between the two countries, Russian authorities will use technical problems as an excuse so as not to turn the supply back on again — a move that would reportedly see the German economy tank by around €200 billion within six months.
According to various European and German news sources, the country's officials are now firefighting regarding the possible worsening of the already severe gas crisis which has seen one major energy company enter existential financial difficulty.
Read the full report from Breibart News by PETER CADDLE.
Donald Trump accused the "deep state" of trying to ruin his presidency from Russia collusion to two impeachments, but the 45th president may have gotten the last laugh 18 months after leaving office when a Supreme Court infused with three of his appointees drastically reined in the powers of alphabet-soup federal bureaucracy.
Read the full report from Just The News.
ADVERTISEMENT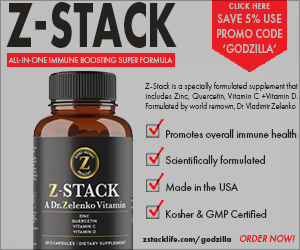 Dr. Vladimir Zelenko has been included in a group of doctors nominated for the Nobel Peace Prize for their role in addressing the coronavirus pandemic.
If the last 18 months have taught us anything it's that YOU have to take control of your own health. You can't rely on the government or big pharma. That's where Z-STACK comes in. Z-STACK is a specially formulated supplement that includes Zinc, Quercetin, Vitamin C, and Vitamin D. Formulated by Dr. Vladimir Zelenko the world-renowned doctor that President Trump credited with his successful early treatment protocol and his decision to take hydroxychloroquine. Go to https://zstacklife.com/godzilla and order today!