COLUMBUS, Georgia—June 10, 2023 
The Populist movement in America is about to claim its first major Republican state Party takeover: Georgia.
MAGA forces have overwhelmed the normal stodgy-inside baseball delegate selection process and have stormed the state convention—70 percent of the state convention delegates are new from just two years ago.
In so doing, the new America First populist delegates are on the verge of routing the establishment old guard, once an impregnable and immovable force in the Georgia Republican power structure.
The GA GOP MAGA takeover is so sweeping that the state's Republican governor, attorney general, secretary of state, and insurance commissioner have boycotted the event.
Only Lt. Governor Burt Jones and Labor Commissioner Bruce Thompson have chosen to attend.
What's stunning is the populist revolution took just three years to culminate.
It was originally ignited by what many grassroots Trump supporters believed was a stolen election in Georgia, led by sworn affidavits and allegations of fake counterfeit ballots jammed through machines in Fulton County in the dead of night.
Combined with relentless calls by MAGA media leaders for their supporters to join their local party units and become precinct chairs to gain authority, the new delegate tsunami began to take shape in virtually every Georgia county and congressional district over the last three years.
As the populist revolt gained a foothold, MAGA leaders began to gain positions of leadership and authority within their local units.
The next step was understanding the convention delegate process, and the rout was on.
All the leading candidates for every position — from Chairman to Assistant Secretary–are unwavering Trump supporters.
As a result, MAGA favorite and former Arizona gubernatorial candidate Kari Lake was selected as the Friday night keynote speaker.
President Trump will be the featured speaker today, and it will be his first public address since the Federal indictment was handed down on the Mara-Logo raid.
Only two other GOP presidential candidates chose to attend: Vivek Ramaswamy and former Arkansas governor Asa Hutchinson. The others were invited but bailed to save themselves from embarrassment and likely boos from the overwhelmingly Pro-Trump delegates.
Former President Trump is expected to address the convention late this afternoon! Tune into our special edition live broadcast!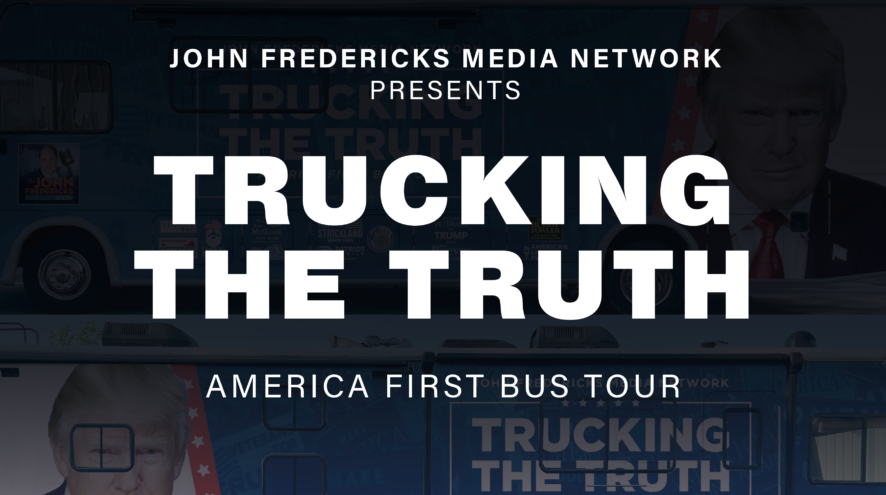 SPECIAL EDITION LIVE BROADCAST
TODAY 1:00 PM -5:00 PM from the Convention Floor! Tune in here – also carried on GETTR LIVE, Rumble Live, Twitter Live, and Facebook Live! VISIT: www.johnfredericksradio.com for the America First – Trucking the Truth Bus Tour schedule and more information!
ADVERTISEMENT