Former President Trump said Friday that the Supreme Court ruling earlier in the morning that struck down the decades-old Roe v. Wade ruling on abortion will "work out for everybody."
"This is following the Constitution, and gives rights back when they should have been given long ago," Trump, who appointed three of the six justices who voted to overturn the landmark 1973 Roe decision, told Fox News.

"I think, in the end, this is something that will work out for everybody," he continued, in an apparent message to his supporters who are pro abortion."This brings everything back to the states where it has always belonged."
The decision by the high court's conservative majority will result in individual states decide on their own abortion laws.
When asked if he feels he played a role in the reversal of the landmark decision that granted women the constitutional right to an abortion, Trump replied, "God made the decision."
In a statement released later in the day, the former president called Friday's decision "the biggest WIN for LIFE in a generation."
He added they it was "only made possible because I delivered everything as promised, including nominating and getting three highly respected and strong Constitutionalists confirmed to the United States Supreme Court."
The former president's own views of abortion have evolved over the years.
In 1999, he said during an interview on NBC's "Meet the Press" that he is "very pro-choice," though he said at the time that he "hates the concept of abortion" and talking about it makes him "cringe."
During his presidency and the campaign leading up to his 2016 election victory, however, Trump made a point of saying he would put "pro-life justices on the court."
Read the full report from Just The News.
Statement by Donald J. Trump, 45th President of the United States of America
I listen to all of these foolish (stupid!) people, often living in a bygone era, like the weak and frail RINO, Peggy Noonan, who did much less for Ronald Reagan than she claims, and who actually said bad things about him and his ability to speak, or Rich Lowry, who has destroyed the once wonderful and influential National Review, the pride and joy of the legendary William F. Buckley, or George Will, whose mind is decaying with hatred and envy before our very eyes, or Jonah Goldberg and Stephen Hayes, two people who are finally out of the conversation and of no relevance whatsoever. Where do these people come from? They have no idea what the MAGA movement is, and even less of an understanding of America First, which is necessary, and even vital, to save our Country. People like these are nasty, jealous, not smart, and of no use to the potential greatness of our Country. They talk, they criticize, and they complain, but they don't have the ability or talent to get anything done. They are shortsighted "losers", and will never understand what it takes to Make America Great Again!
ADVERTISEMENT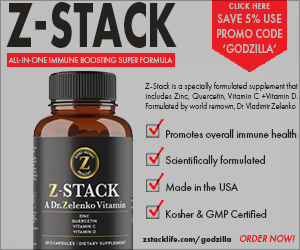 Dr. Vladimir Zelenko has been included in a group of doctors nominated for the Nobel Peace Prize for their role in addressing the coronavirus pandemic.
If the last 18 months have taught us anything it's that YOU have to take control of your own health. You can't rely on the government or big pharma. That's where Z-STACK comes in. Z-STACK is a specially formulated supplement that includes Zinc, Quercetin, Vitamin C, and Vitamin D. Formulated by Dr. Vladimir Zelenko the world-renowned doctor that President Trump credited with his successful early treatment protocol and his decision to take hydroxychloroquine. Go to https://zstacklife.com/godzilla and order today!