It's Time for President Trump to Go All in NOW – to Save the Feckless GOP From Itself
Only Trump's vision can lead us to a 70+ seat Red Wave.
By Liz Peek
Republicans beat Democrats ten to nothing in their annual Congressional baseball game. That's the extent of their winning streak of late. Elsewhere, they've been batting close to zero.
Not only were Republicans snookered by Senate Democrats into supporting the $280 billion "Chips" bill, an unnecessary handout to a wildly profitable industry. They also got blindsided by a Build Back Better proposal that rose from a well-deserved grave.
As alarming, recent polling and fund-raising reports show Republicans losing steam as we approach the midterm elections. As the GOP hovers on the brink, it needs a pinch-hitter to turn around the party's fortunes, literally and figuratively.
That pinch hitter could be — and should be — Donald Trump. Thanks to unflattering disclosures from the partisan January 6 show trial, and from months of bitter backward-looking grousing about the 2020 election, Mr. Trump's popularity has taken a hit.
Recently, though, he spoke at the America First Agenda Summit in Washington, where he reverted to the positive, common-sense kind of message that won him the presidency in 2016. That was a welcome pivot and possibly the beginning of a Trump revival.
He must do more, and he can. The former president is sitting on a reported $121 million that he and his organizations have raised. Karl Rove, in a recent op-ed in the Wall Street Journal, reports that by law Trump will probably not be able to use this money to fund his likely presidential campaign.
If Trump wants to run again, the most important thing he can do is to support GOP candidates, and especially those he has backed, in the upcoming midterms. By showing that he will work for his party's nominees and that he can produce winners, Trump could get his mojo back.
Polling gathered by FiveThirtyEight shows the GOP lead on the generic congressional ballot has all but disappeared. Today, Republicans are nearly tied with Democrats; as recently as mid-June, the GOP had a 2.6 point advantage.
Worse, in a new poll from Suffolk University, registered voters preferred Democrats over Republicans by more than four points. In that poll, by the way, only 39 percent of respondents approved of the job President Biden is doing and more than three quarters felt the country was on the wrong track.
Also worrisome is that Democrats are outraising Republicans in online campaign donations. The New York Times reports that Republicans saw online fundraising drop 12 percent across all committees in the second quarter from the first three months of the year. With an election nearing, that is not supposed to happen.
Republican Party officials and campaign strategists are blaming inflation's pinch for the downturn, but Democratic online giving actually rose 21 percent quarter to quarter.
While Republicans currently are favored to win control of the House, taking back the Senate looks less likely, especially as fundraising for Trump-backed candidates like Mehmet Oz in Pennsylvania and J.D. Vance in Ohio is falling behind.
The Times reports: "The money gap is so pronounced that Senator Raphael Warnock of Georgia, an endangered Democratic incumbent, raised more online last quarter — $12.3 million — than the combined WinRed quarterly hauls of the Republican Senate nominees or presumptive nominees in seven key contests: Georgia, Wisconsin, Florida, Nevada, Ohio, North Carolina and Pennsylvania."
These candidates need Trump's millions. Dr. Oz, the famous cardiac surgeon, is campaigning to claim the Pennsylvania senate seat currently held by a retiring Republican, Pat Toomey. Dr. Oz is currently running behind Democrat candidate Lieutenant Governor John Fetterman by 11 points, according to a new poll.
Dr. Oz raised $3.8 million in the second quarter, which included a $2.2 million loan from himself; by comparison Fetterman raised $10 million.
In Ohio, Mr. Vance appears to be running neck and neck with Democrat Tim Ryan, but raised only $1 million between mid-April and the end of June, compared to $9 million brought in by his opponent.
In Mr. Trump's recent speech, he repeatedly called on Congress to restore law and order, provide a secure border and push other GOP priorities.  Only with a majority can those ambitions be fulfilled. Mr. Trump can help make that happen.
SCOOP: New Internal Polling Shows Andy Ogles Running Away With It In TN-05 
In a recently obtained internal survey from the TN-05 GOP candidate for Congress, Beth Harwell campaign, her internal polling has her losing in a tight race to Freedom Caucus Endorsed Andy Ogles. TN-05 is a new district that has been hotly contested. It will add a GOP seat to TN.
Ogles – 30%
Harwell – 24%
Winstead – 13%
Here's the poll: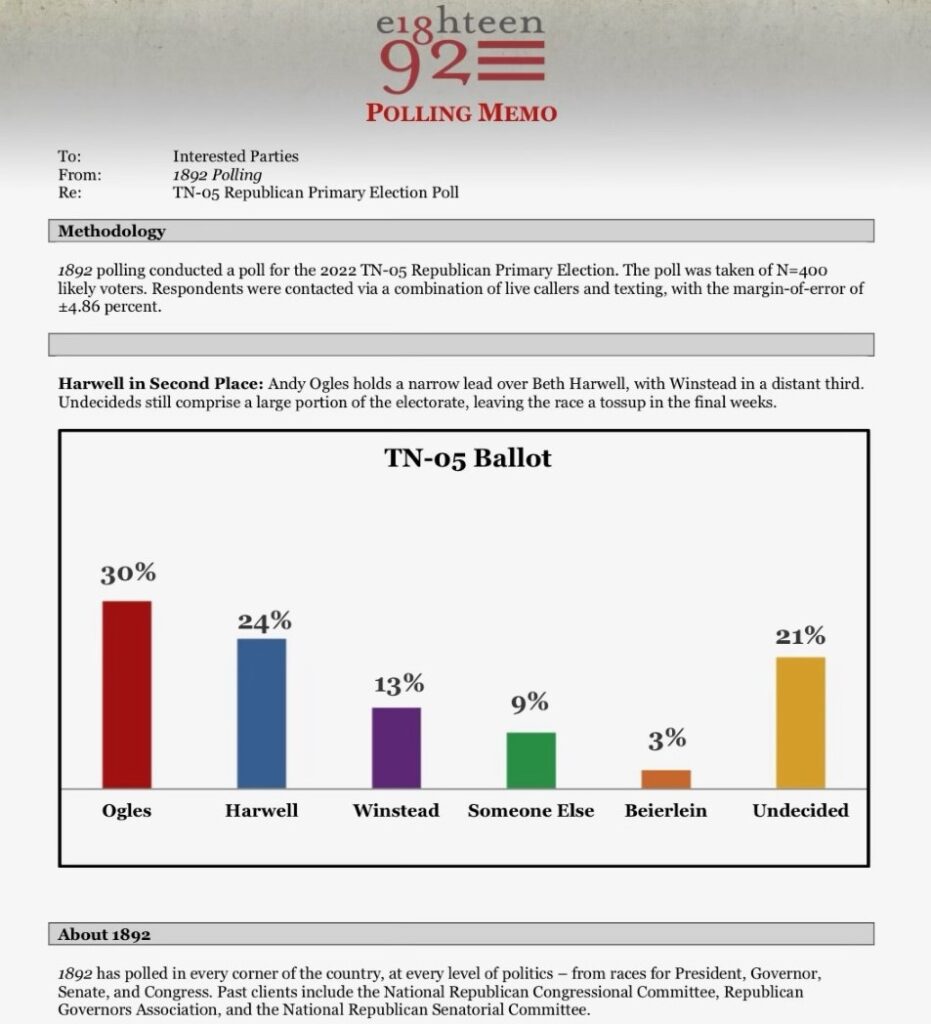 ADVERTISEMENT