With the war in Ukraine adding to issues on President Joe Biden's plate, a just-released Emerson College Poll shows him down 12 points in favorability with his predecessor, former President Donald Trump.
According to the poll, 59% of voters expressed a somewhat or very favorable view of Trump, while 47% had a somewhat or very favorable view of Biden.
The two are more closely matched in a hypothetical 2024 election, where Trump leads Biden 45% to 42%.
But it isn't all bad news for Biden. His favorability numbers are up one point from the same poll in February when it was 43%, and his disapproval fell one point to 49%.
Biden's approval numbers have been in freefall in multiple polls throughout his presidency as he has continued to battle COVID, the botched Afghanistan pullout, and inflation — including higher gasoline prices.
The poll showed the issues that voters most care about include: the economy (including jobs, inflation, and taxes) at 37%, healthcare at 14% and the Ukraine-Russian war at 12%.
Most voters, 39%, blamed Biden for high gas prices, followed by sanctions on Russia at 21% and the gas and oil companies at 18%
But he could get a boost from his travels to Europe for the NATO summit this week. Fifty-nine percent agree he should attend. Still 51% think he should focus more on domestic issues, and 35% on Ukraine. Sixty-nine percent believe the United States should accept refugees from Ukraine.
"Biden struggles among Independent voters: Just 28% approve of the job he is doing while 64% disapprove," said Spencer Kimball, executive director of the Emerson College Poll. "When looking at the Midterm generic congressional ballot, Independents break 28% for Democrats, 42% with Republicans, and 31% are undecided."
Notable demographic differences include region and education, Kimble said. Trump leads Biden among both suburban voters, 47% to 38%, and rural voters, 59% to 35%, while Biden holds 54% to 30% support among urban and city voters.
Trump leads among those without a college degree, 51% to 33%, while Biden leads among those with a college degree or more 52% to 37%, Kimble said.
Republicans continue to hold an advantage in the midterms, according to the poll. Forty-seven percent say they will support the Republican congressional candidate, 42% plan to support the Democratic congressional candidate, and are 11% undecided.
Statement by Donald J. Trump, 45th President of the United States of America
Mo Brooks of Alabama made a horrible mistake recently when he went "woke" and stated, referring to the 2020 Presidential Election Scam, "Put that behind you, put that behind you," despite the fact that the Election was rife with fraud and irregularities. If we forget, the Radical Left Democrats will continue to Cheat and Steal Elections. Just look at what is happening in Wisconsin, Arizona, Pennsylvania, Georgia, and elsewhere, but tremendous progress has been made that will help us in 2022 and 2024. The 2020 Election was rigged, and we can't let them get away with it.
When I endorsed Mo Brooks, he took a 44-point lead and was unstoppable. He then hired a new campaign staff who "brilliantly" convinced him to "stop talking about the 2020 Election." He listened to them. Then, according to the polls, Mo's 44-point lead totally evaporated all based on his "2020" statement made at our massive rally in Cullman, Alabama. When I heard his statement, I said, "Mo, you just blew the Election, and there's nothing you can do about it." Very sad but, since he decided to go in another direction, so have I, and I am hereby withdrawing my Endorsement of Mo Brooks for the Senate. I don't think the great people of Alabama will disagree with me. Election Fraud must be captured and stopped, or we won't have a Country anymore. I will be making a new Endorsement in the near future!
Statement by Donald J. Trump, 45th President of the United States of America
Endorsement of John Gordon
Great news for Georgia! A very successful Businessman and Attorney, John Gordon, will be running against "Do Nothing" Attorney General Chris Carr. As everyone in the Great State of Georgia is aware, Carr did absolutely nothing to stop the 2020 Presidential Election Fraud which, as facts have shown, and are showing, was rampant. He spent more time hunting those people who fought for the truth than he did those who cheated in the Election. Chris Carr was a disaster every step of the way. He wasn't looking for Election Integrity, but rather, an easy way out.
John Gordon, on the other hand, will get to the bottom of it all. He is tough, strong, smart, and loves the people of Georgia. He is also strong on the Border, Crime, our Military, Vets, and will proudly protect our Second Amendment. He will be a spectacular Attorney General, something the state so desperately needs. John Gordon has my Complete and Total Endorsement. He will never let you down!
NEWT GINGRICH ENDORSES DAVID PERDUE, WILL JOIN PERDUE ON CAMPAIGN TRAIL NEXT WEEKATLANTA, GA – Former Speaker of the House Newt Gingrich today formally endorsed David Perdue for Governor of Georgia. Gingrich will join Perdue on the campaign trail in Georgia next week.
"David Perdue is a lifelong job creator with a record of results. His natural instinct is to solve problems and bring people together," said Former Speaker of the House Newt Gingrich. "I firmly believe David Perdue is the only candidate who can unite the Republican Party, defeat Abrams, and help Georgia avoid Critical Race Theory indoctrination, higher taxes, and bigger bureaucracy. David Perdue has my full support and endorsement. His bold conservative vision will lead Georgia to a brighter future."
Speaker Gingrich will make the following campaign stops with Perdue. The events are free and open to the public. Media RSVPs are required and should be submitted HERE by Monday, March 28 at 5:00 PM.
Tuesday, March 29
Fayetteville Meet & Greet
Fayette GOP Headquarters, 174 Glynn St N, Fayetteville, GA 30214
11:45 AM / GENERAL PUBLIC RSVP
Duluth Meet & Greet
1818 Club, 6500 Sugarloaf Pkwy, Duluth, GA 30097
2:15 PM / GENERAL PUBLIC RSVP
Marietta Meet & Greet 
Cobb GOP Headquarters, 799 Roswell St NE, Marietta, GA 30060
4:45 PM / GENERAL PUBLIC RSVP
ADVERTISEMENT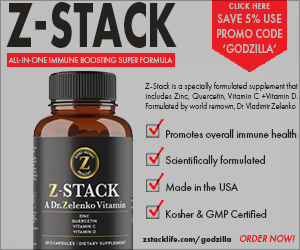 Dr. Vladimir Zelenko has been included in a group of doctors nominated for the Nobel Peace Prize for their role in addressing the coronavirus pandemic.
If the last 18 months have taught us anything it's that YOU have to take control of your own health. You can't rely on the government or big pharma. That's where Z-STACK comes in. Z-STACK is a specially formulated supplement that includes Zinc, Quercetin, Vitamin C, and Vitamin D. Formulated by Dr. Vladimir Zelenko the world-renowned doctor that President Trump credited with his successful early treatment protocol and his decision to take hydroxychloroquine. Go to https://zstacklife.com/godzilla and order today!