Endorsement of Dr. Oz
This is all about winning elections in order to stop the Radical Left maniacs from destroying our Country. The Great Commonwealth of Pennsylvania has a tremendous opportunity to Save America by electing the brilliant and well-known Dr. Mehmet Oz for the United States Senate.
I have known Dr. Oz for many years, as have many others, even if only through his very successful television show. He has lived with us through the screen and has always been popular, respected, and smart. He even said that I was in extraordinary health, which made me like him even more (although he also said I should lose a couple of pounds!).
Dr. Oz is a graduate of Harvard University and earned a joint MD and MBA from the University of Pennsylvania School of Medicine and Wharton School of Finance. He has authored more than 350 original publications, written 8 New York Times bestsellers, and received patents for developing medical devices that have improved countless lives and performed thousands of life-saving heart operations.
Dr. Oz is Pro-Life, very strong on Crime, the Border, Election Fraud, our Great Military, and our Vets, Tax Cuts, and will always fight for and support our under-siege Second Amendment. He will ensure America will become Energy Independent again. Dr. Oz also passionately believes in high-quality education and protecting parent involvement throughout the process. Perhaps most importantly, I believe that Mehmet Oz will be the one most able to win the General Election against a Radical Left Democrat looking to do unthinkable harm to our Country. Women, in particular, are drawn to Dr. Oz for his advice and counsel. I have seen this many times over the years. They know him, believe in him, and trust him. Likewise, he will do very well in Philadelphia and Pittsburgh, where other candidates will just not be accepted. He knows his job is to serve every single Pennsylvanian. Dr. Oz is smart, tough, and will never let you down, therefore, he has my Complete and Total Endorsement.
Good luck, Dr. Oz. our Country needs you!
John Fredericks Statement to Politico on Trump Endorsement:
"I encouraged President Trump to endorse Dr. Oz and I'm thrilled he's with us. It's not only a game-changer in Pennsylvania, it's a bold and gutsy transformational endorsement. The days of money and fake polls are over. This puts an exclamation mark on Trump's unwavering and unafraid commitment to advancing his America First Agenda regardless of the odds.
Dr. Oz has been helping people for 30 years while his opponent has been fleecing them as a hedge fund titan and sending their jobs to China. Dr. Oz will have our back. McCormick and his gangster-bankster Wall Street cronies want to establish a beachhead in the US Senate to make more billions for themselves while we wait in the bread lines for scraps."
ADVERTISEMENT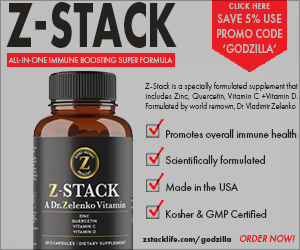 Dr. Vladimir Zelenko has been included in a group of doctors nominated for the Nobel Peace Prize for their role in addressing the coronavirus pandemic.
If the last 18 months have taught us anything it's that YOU have to take control of your own health. You can't rely on the government or big pharma. That's where Z-STACK comes in. Z-STACK is a specially formulated supplement that includes Zinc, Quercetin, Vitamin C, and Vitamin D. Formulated by Dr. Vladimir Zelenko the world-renowned doctor that President Trump credited with his successful early treatment protocol and his decision to take hydroxychloroquine. Go to https://zstacklife.com/godzilla and order today!