Crooked Joe Biden has spent months boasting that he deserves political credit and public gratitude for the state of the U.S. economy. He has insisted that American families are prospering and thriving under policies that he himself has branded and promoted as "Bidenomics."
But the public has not been fooled.  They see Bidenomics for what it is: inflation, taxation, submission, and failure.  With polls confirming that Americans overwhelmingly reject Biden's effort to whitewash his abysmal economic record, he will now attempt to reverse his message 180 degrees, ludicrously trying to blame President Trump for the destruction and misery that Joe Biden himself has wrought.
Here is the truth. Americans were better off financially under President Trump.
President Trump saved the U.S. economy and millions of American jobs, and then handed Joe Biden the fastest and strongest recovery ever recorded, with no inflation. Upon taking office, Joe Biden and the radical left zealots staffing his White House systematically wrecked the booming Trump economic comeback they inherited.
Starting on his first day, Joe Biden shut down the Keystone XL pipeline, waged war on American energy, added hundreds of billions of dollars in regulatory burdens (over $10,000 per household), imposed a colossal tax hike, and threw open the southern border, sending millions of illegal alien migrants pouring into communities nationwide and straining local budgets and social services to the breaking point.
In addition, defying the explicit warnings of President Obama's top economic advisor (who told Biden that his overspending would cause catastrophic inflation), Biden spent an unprecedented $11.5 trillion at a time when there was neither a war nor a national emergency. This included over $4 trillion on three massive socialist spending bills crammed with every ridiculous and dangerous idea that the most fringe far-left lunatics in Congress ever dreamed up. These three bills alone cost taxpayers over $30,000 per household.
---
KISS OF DEATH COUNTDOWN: 40 Days Left
It's Ron DeSanctimonious' birthday today and he was welcomed with some devastating news that is sure to make this a memorable one. No longer a medalist, and on his way to receiving nothing but a participation trophy and the ignominy of losing every state, he's slipped to FOURTH PLACE in South Carolina, he's dropped to the lowest point ever in the polls, and been exposed for taking undisclosed private flights and lodging through wealthy donors. Even his Super PAC's national spokesman admitted in an interview that a President Trump nomination 'seems inevitable.'
Happy birthday, Ron!"
—Steven Cheung, Trump spokesperson
On August 24, 2023, Always Back Down consultant Jeff Roe gave Ron DeSantctimonious 60 days to "beat Trump."
With only 40 days to go, the Ron DeSanctimonus campaign continues to spiral out of control with record-low polling that has even the Always Back Down grifters ready to surrender.
As reported by The National Pulse, Always Back Down national spokesman Steve Cortes told Chicago's Morning Answer that a rematch between President Trump and Crooked Joe Biden "seems inevitable."
DeSanctus received a birthday gift this morning when the updated RealClearPolitics polling average revealed that President Trump has the largest advantage over DeSantis ever with a massive 42.5% lead—while DeSantis has dropped to his lowest point yet.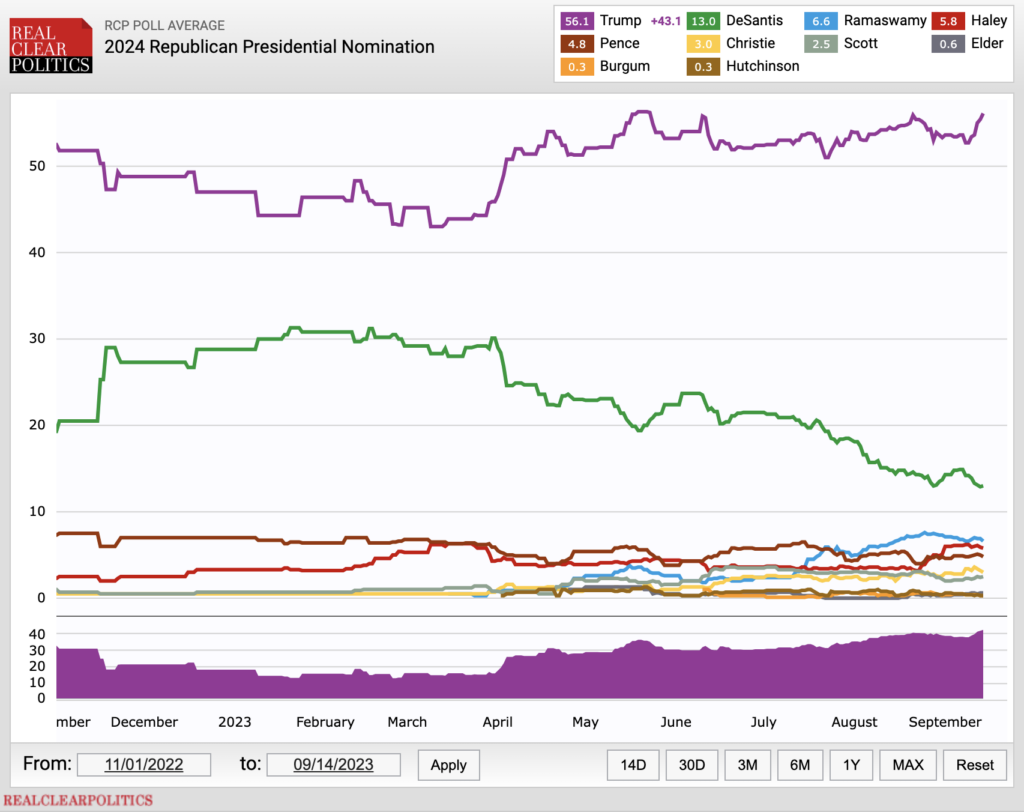 But his disastrous polling didn't stop there. This morning, a new Washington Post/Monmouth poll of South Carolina Republicans shows President Trump in the lead with 46% support, while Ron embarrassingly fell to FOURTH place with only 9% support in the Palmetto State.
This morning, a new Washington Post report reveals Ron's proclivity for undisclosed  "luxury travel and leisure time with wealthy donors":
"Florida Gov. Ron DeSantis took at least six undisclosed trips on private jets and accepted lodging and dining in late 2018, according to flight manifests, tracking data and other documents obtained by The Washington Post that reflect his proclivity for luxury travel and leisure time with wealthy donors."
• JUST THE NEWS — Trump lead reaches 50 points over DeSantis: poll
• NEWSMAX — DeSantis Eyes Wall Street Execs, Lawyer for Boost
• THE NATIONAL PULSE — DeSantis Turns To Big Money Romney Advisors for Help