RICHMOND, Virginia—War Room: Battleground is Bannon's newest addition to his daily shows and will premiere Monday, March 7, airing 6:00-7:00 PM weekdays. Bannon says his new show will focus on news, analysis, and the personalities of the 2022 midterm elections.
War Room: Battleground will be heard live on the John Fredericks Media Network on all eight Fredericks' owned and or operated radio stations, including WJFP AM 740, 103.3 FM, and 95.3 FM in Philadelphia, DE, and South Jersey; WJFN-AM 820 and WJFN-FM 100.5 FM. 92.7 FM and 107.7 FM in Central and Southeast Virginia; and WMLB AM 1690 in Atlanta, GA, and all his corresponding streaming devices.
"We are very excited to add Steve Bannon's War Room: Battleground to our radio network lineup," said John Fredericks, radio and television talk show host. "This is the most critical next nine months in the nation's history, and all of our focus is on the upcoming primaries and nomination conventions. That's why War Room: Battleground is critical to giving our listeners and viewers critical insight into the various candidates and their policy positions."
Steve Bannon's War Room live radio and television show currently airs three hours per weekday, 10:00 AM – 12:00 PM and 5:00 PM to 6:00 PM. His live Saturday show is 10:00 AM -12:00 PM. Bannon's War Room is one of the largest live shows globally and consistently among the top-rated political shows in America with now almost 150 million downloads on the podcast.
Bannon's War Room is carried on the John Fredericks Media Network, Real America's Voice, GETTR Live Stream, and many other national and international platforms.
Bannon Weighs In 
"The MAGA Movement has a unique opportunity to destroy the Democratic Party as a functioning institution during the coming mid-term election on 8 November. This is the moment to relentlessly focus on the America First agenda of President Trump. War Room: Battleground will be that platform," said Stephen K. Bannon, War Room host and a former White House strategic advisor to President Donald J. Trump.
WAR ROOM: Battleground launches Monday, March 7, 6:00-7:00 PM daily.
READ THE FULL PRESS RELEASE HERE: https://mailchi.mp/johnfredericksradio/war-room-battleground-launch
ADVERTISEMENT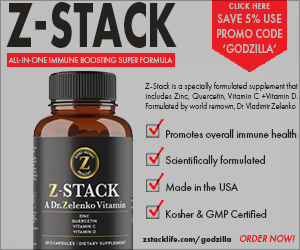 Dr. Vladimir Zelenko has been included in a group of doctors nominated for the Nobel Peace Prize for their role in addressing the coronavirus pandemic.
If the last 18 months have taught us anything it's that YOU have to take control of your own health. You can't rely on the government or big pharma. That's where Z-STACK comes in. Z-STACK is a specially formulated supplement that includes Zinc, Quercetin, Vitamin C, and Vitamin D. Formulated by Dr. Vladimir Zelenko the world-renowned doctor that President Trump credited with his successful early treatment protocol and his decision to take hydroxychloroquine. Go to https://zstacklife.com/godzilla and order TODAY!