Dan Cox is doing a great job running for Governor of Maryland. He will bring dignity back to a State that is much more "red" than anyone would ever know or believe. Dan will fight for our schools, our jobs, and our entire way of life. More importantly, Dan will end Larry Hogan's terrible RINO reign by defeating his "Never Trump" successor, another low-energy RINO, Kelly Schulz. Early Voting is underway and Election Day is July 19. Dan will do an amazing job restoring FREEDOM to a shutdown Maryland. Hogan is one of the worst in the Country, governed more like a Democrat than a Republican, cheated with South Korea on the Covid tests, and locked everything up with really bad results. Dan Cox is a terrific guy with a beautiful family. He has my Complete and Total Endorsement!
Statement by Donald J. Trump, 45th President of the United States of America
The failing New York Times is down 40% year-to-date because they are Fake News. Their reporters are dishonest, and their front page has become a work of total fiction, not news. They hate our Country, and they hate reporting the truth, which is why America is not respected and our Nation has never been weaker. Instead, they obsess over January 6, just like they did over Impeachment Hoax #1, Impeachment Hoax #2, the Mueller Witch Hunt, and Russia, Russia, Russia. The New York Times will continue to decline because people no longer believe their reporting is even close to being true. Fake polls, phony stories, and made up quotes—they are a disgrace to journalism and have set it back many many years. THE NEW YORK TIMES IS TRULY THE ENEMY OF THE PEOPLE!
ADVERTISEMENT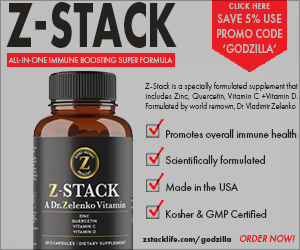 Dr. Vladimir Zelenko has been included in a group of doctors nominated for the Nobel Peace Prize for their role in addressing the coronavirus pandemic.
If the last 18 months have taught us anything it's that YOU have to take control of your own health. You can't rely on the government or big pharma. That's where Z-STACK comes in. Z-STACK is a specially formulated supplement that includes Zinc, Quercetin, Vitamin C, and Vitamin D. Formulated by Dr. Vladimir Zelenko the world-renowned doctor that President Trump credited with his successful early treatment protocol and his decision to take hydroxychloroquine. Go to https://zstacklife.com/godzilla and order today!