Inflation just hit ANOTHER 40-year high of 9.1%, which is terrible for our Country. Fuel prices up 60%, Airfare up 34%, Eggs up 33%—how can people survive this? How can businesses survive this? Our Country is so weak right now because the Radical Left Democrats have no clue what they are doing. All they want to do is "get Trump," and they are willing to destroy our Nation to do it. America will not allow this to go on for much longer. Don't vote for the Radical Left Democrats, vote for America First Republicans—Save America!
ADVERTISEMENT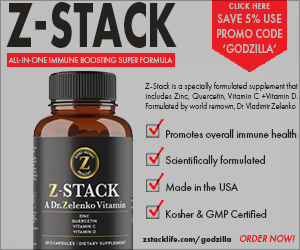 Dr. Vladimir Zelenko has been included in a group of doctors nominated for the Nobel Peace Prize for their role in addressing the coronavirus pandemic.
If the last 18 months have taught us anything it's that YOU have to take control of your own health. You can't rely on the government or big pharma. That's where Z-STACK comes in. Z-STACK is a specially formulated supplement that includes Zinc, Quercetin, Vitamin C, and Vitamin D. Formulated by Dr. Vladimir Zelenko the world-renowned doctor that President Trump credited with his successful early treatment protocol and his decision to take hydroxychloroquine. Go to https://zstacklife.com/godzilla and order today!