So after 50 years of being virtually empty, I built up our oil reserves during my administration, and low energy prices, to 100% full. It's called the Strategic National Reserves, and it hasn't been full for many decades. In fact, it's been mostly empty. It's supposed to only be used for large-scale emergencies or conflicts. Now I see where Biden has just announced he's going to take what we so carefully and magically built, and what will be a futile attempt to reduce oil and gasoline prices. They will soon bring it down to empty again. It just never ends!
MORE: Statement by Donald J. Trump, 45th President of the United States of America
Yesterday, the 9th Circuit issued yet another attorney fees ruling in my favor against Stephanie Clifford (AKA "Stormy Daniels")—this time, awarding me $245,209.67 for my fees incurred in her 9th Circuit appeal of her failed lawsuit against me, dismissed under Texas's Anti-SLAPP statute. Less than two weeks ago, the 9th Circuit ruled in my favor and upheld an award of $292,052.33 for the trial court work in the same case. As of now, Ms. Clifford owes me $538,262.00 in this case, not counting attorney fees for her appeal of the trial court attorney fee award, which the 9th Circuit upheld two weeks ago. Congratulations to Harmeet K. Dhillon and her team at the Dhillon Law Group! This entire case has been nothing but a disaster for Ms. Clifford and her lawyer Michael Avenatti, from the start—a total waste of court time and resources, ending up with her owing me a large and growing amount in attorney fees that never needed to have been spent, especially since as I have stated many times, I never had an affair with her—nor would I have ever wanted to (even in her wildest imagination!).
MORE: Statement by Donald J. Trump, 45th President of the United States of America
So the Radical Left Democrats in Congress and the Unselect Committee continue to seek the destruction of lives of very good people, but have no interest in going after the criminals and thugs who cheated like mad dogs on the 2020 Presidential Election. All the evidence is in and conclusive, but they, and the Fake News Media, refuse to look at or report it. They call it the Big Lie, but the Big Lie is the exact opposite—they are the liars, they are the cheaters, and they are the ones who are destroying our Country at the Voting Booths, the Borders, the Gas Stations, with our Military, our Vets, Foreign Relations, and everywhere else!
ALERT: INTERVIEW WITH PRESIDENT TRUMP ON TUESDAY, APRIL 5TH AT 9:00 AM – STAY TUNED FOR DETAILS!
ADVERTISEMENT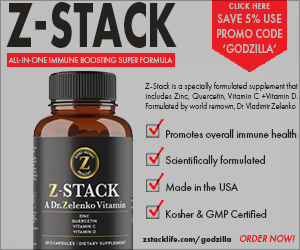 Dr. Vladimir Zelenko has been included in a group of doctors nominated for the Nobel Peace Prize for their role in addressing the coronavirus pandemic.
If the last 18 months have taught us anything it's that YOU have to take control of your own health. You can't rely on the government or big pharma. That's where Z-STACK comes in. Z-STACK is a specially formulated supplement that includes Zinc, Quercetin, Vitamin C, and Vitamin D. Formulated by Dr. Vladimir Zelenko the world-renowned doctor that President Trump credited with his successful early treatment protocol and his decision to take hydroxychloroquine. Go to https://zstacklife.com/godzilla and order today!