Russia just sanctioned Joe Biden. While that is a terrible thing, in so many ways, perhaps it will now be explained why the Biden family received 3.5 million dollars from the very wealthy former Mayor of Moscow's wife.
During our Presidential Debate, "moderator" Chris Wallace, then of Fox, would not let me ask that question. He said it was inappropriate. Perhaps that's why Biden has been so "slow on the draw" with Russia. This is a really bad conflict of interest that will, perhaps now, be fully and finally revealed!
Also, big rally in South Carolina this weekend. Will be honoring Katie Arrington, who is running against the absolutely horrendous Nancy Mace, and Russell Fry, who is likewise running against "doesn't have a clue" Tom Rice. Big crowds at the Florence Regional Airport, starts at 7:00PM ET. See you there!
LETTER TO THE EDITOR OF TRUMP NATION NEWS:
Dear President Trump,
I strongly support you going to Russia as a special envoy to broker a deal of peace. Now is the time for diplomatic parley between Russia and Ukraine. I peace treaty can work with God's wisdom upon you and your team. We are hoping for an end to the violence in Ukraine. Thank you for your consideration in this situation!
God Speed,
Theodore Larson
Veteran USMC
GETTR ANNOUNCES TWITTER CROSS-POSTING FEATURE FOR ALL USERS
Free speech social media platform GETTR is today giving all of its users the ability to cross-post from GETTR to Twitter, meaning users will be able to communicate with all of their followers without repeatedly logging into Twitter.
The revolutionary new technology allows GETTR users to export their GETTR posts to Twitter so anything they post on the free speech platform will automatically show up on their Twitter timeline. At this stage, the feature only works for content posted originally on GETTR.
"GETTR continues to innovate and challenge the Big Tech dinosaurs, bringing new and amazing features to our global free speech community – and we're just getting started. We'll never be satisfied with the status quo, and it's why we're taking the social media world by storm. Live-streaming, Vision, cross-posting, and this summer, GETTR Pay, all working together to defend the freedom of expression and fight censorship. Just as legendary coach George Allen used to say, 'The Future is Now!'" said GETTR Chief Executive Officer Jason Miller.
The new feature cements GETTR's place as the world's leading free speech social media platform and comes ahead of several exciting new features in 2022, including Vision, a short video platform alternative to TikTok and Instagram Reels, encrypted direct messages, online appreciation and tipping for content creators, and GETTR Pay, a cryptocurrency-based payment system.
Today, GETTR has 5 million registered users on every continent but Antartica, and is the fastest growing social media platform in history, having marked its first million users less than three days after its formal launch on July 4, 2021. By comparison, Twitter took 24 months to attract one million users while Facebook took 10 months.
ADVERTISEMENT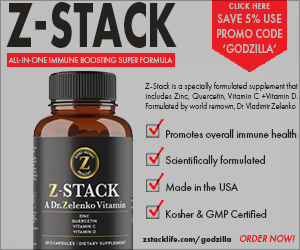 Dr. Vladimir Zelenko has been included in a group of doctors nominated for the Nobel Peace Prize for their role in addressing the coronavirus pandemic.
If the last 18 months have taught us anything it's that YOU have to take control of your own health. You can't rely on the government or big pharma. That's where Z-STACK comes in. Z-STACK is a specially formulated supplement that includes Zinc, Quercetin, Vitamin C, and Vitamin D. Formulated by Dr. Vladimir Zelenko the world-renowned doctor that President Trump credited with his successful early treatment protocol and his decision to take hydroxychloroquine. Go to https://zstacklife.com/godzilla and order today!