Whatever happened to free speech in our Country? Incredibly, but not surprisingly, the Big Tech lunatics have taken down my interview with the very popular NELK Boys so that nobody can watch it or in any way listen to it. In the 24 hours that it was up it set every record for them, by many times. Interestingly on the show I told them this would happen because Big Tech and the Fake News Media fear the truth, they fear criticism about Biden, and above all, they don't want to talk about the Rigged 2020 Presidential Election, all topics discussed. In Russia, the people are not allowed to know that they're fighting a war with Ukraine, that's where our media is going, and that's where our Country is going because it quickly follows—just study history. Are we going to allow this to happen? Our Country is going to hell! Look at your gas prices, Inflation, the Afghanistan debacle, our Border, the war with Ukraine, which should have never happened, and so much more. We need freedom of speech again, we don't have it and it's getting worse every day!
Also, big rally in South Carolina this weekend. Will be honoring Katie Arrington, who is running against the absolutely horrendous Nancy Mace, and Russell Fry, who is likewise running against "doesn't have a clue" Tom Rice. Big crowds at the Florence Regional Airport, starts at 7:00PM ET. See you there!
ADVERTISEMENT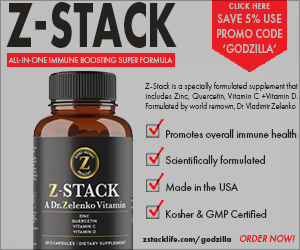 Dr. Vladimir Zelenko has been included in a group of doctors nominated for the Nobel Peace Prize for their role in addressing the coronavirus pandemic.
If the last 18 months have taught us anything it's that YOU have to take control of your own health. You can't rely on the government or big pharma. That's where Z-STACK comes in. Z-STACK is a specially formulated supplement that includes Zinc, Quercetin, Vitamin C, and Vitamin D. Formulated by Dr. Vladimir Zelenko the world-renowned doctor that President Trump credited with his successful early treatment protocol and his decision to take hydroxychloroquine. Go to https://zstacklife.com/godzilla and order