Just confirmed that most of Europe won't go along with the United States in boycotting Russian oil and gas. As usual, the United States will be left out there alone, being taken advantage of by Europe, as we defend them, while we read in the Fake News how everyone has come together under Biden to fight Russia.
Statement by Donald J. Trump, 45th President of the United States of America
The Fake News Media refuses to report that I was the one who very early and strongly gave the anti-tank busters (Javelins) to Ukraine, while Obama/Biden was giving blankets, to great and open complaints. Then Biden came in, and canceled the remaining military equipment that was packed, loaded, and ready to be shipped. Now the Fake News Media is trying to say that Trump gave Ukraine nothing and it was Biden who is their great friend and gave them weaponry. The dishonesty is so unbelievable. All I can do is report it!
READ MORE: Massive Bipartisan Coalition Introduces Legislation Banning Russian Oil Imports
ADVERTISEMENT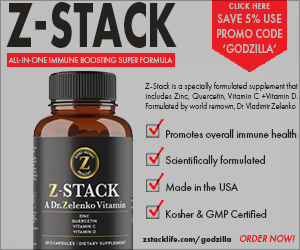 Dr. Vladimir Zelenko has been included in a group of doctors nominated for the Nobel Peace Prize for their role in addressing the coronavirus pandemic.
If the last 18 months have taught us anything it's that YOU have to take control of your own health. You can't rely on the government or big pharma. That's where Z-STACK comes in. Z-STACK is a specially formulated supplement that includes Zinc, Quercetin, Vitamin C, and Vitamin D. Formulated by Dr. Vladimir Zelenko the world-renowned doctor that President Trump credited with his successful early treatment protocol and his decision to take hydroxychloroquine. Go to https://zstacklife.com/godzilla and order