Can you imagine that, what should be the biggest story of our time, bigger than Watergate, is getting absolutely no mention, ZERO, in the New York Times, Washington Post, ABC Fake News, NBC Fake News, CBS Fake News, ratings-dead CNN, and MSDNC. This in itself is a scandal, the fact that a story so big, so powerful, and so important for the future of our Nation is getting zero coverage from LameStream, is being talked about all over the world. Just like they wouldn't talk about the many Biden corruption scandals prior to the Election, (or for that matter now!), they won't talk about this, which is potentially even bigger. It shows how totally corrupt and shameless the media is. Can you imagine if the roles were reversed and the Republicans, in particular President Donald Trump, got caught illegally spying into the Office of the President? All hell would break loose and the electric chair would immediately come out of retirement. The good news is, everybody is talking about not only this atrocity against our Nation, but that the press refuses to even mention the major crime that took place.
Statement by Donald J. Trump, 45th President of the United States of America
Much of the now-uncovered espionage campaign of the Democrats breaking into the White House and my New York City apartment, took place after the 2016 Election as yet another way to undermine the upcoming 2020 Election. This spying into the Oval Office continued for a long period of time and further served to undermine and discredit the 2020 Election, along with massive ballot harvesting, phantom voters, and so many other things that made the election a sham. The voting numbers were big and determinative!
ADVERTISEMENT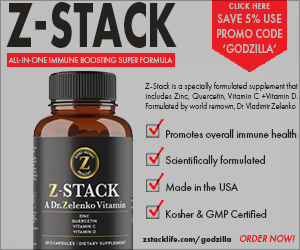 Dr. Vladimir Zelenko has been included in a group of doctors nominated for the Nobel Peace Prize for their role in addressing the coronavirus pandemic.
If the last 18 months have taught us anything it's that YOU have to take control of your own health. You can't rely on the government or big pharma. That's where Z-STACK comes in. Z-STACK is a specially formulated supplement that includes Zinc, Quercetin, Vitamin C, and Vitamin D. Formulated by Dr. Vladimir Zelenko the world-renowned doctor that President Trump credited with his successful early treatment protocol and his decision to take hydroxychloroquine. Go to https://zstacklife.com/godzilla and order TODAY!