Even more Voter Fraud was just discovered in Wisconsin. It shows the Election was Rigged and Stolen. A hearing this week revealed at least 50,000 illegal phantom votes were cast in the 2020 Presidential Election, which is more than twice the "victory" margin. Incredible problems were also uncovered within Wisconsin's voter rolls, including an apartment building with 102 percent turnout rate (not possible), 113 ballots cast from an address where no one lives, 3,713 "voters" registered to U.S. Post Offices, and 625,000 dead people on Wisconsin's voter rolls. In addition, 46,000 votes were cast on Nov. 3rd based on voter information that was never verified by the state. This is on top of massive ballot harvesting, rigged "indefinitely confined" votes, the Wisconsin Election Commission instructing election officials to break the law, Zuckerberg drop boxes, etc. So who in Wisconsin is leading the charge to decertify this fraudulent Election? It's time for RINOs to step forward and save our Country!
Statement by Donald J. Trump, 45th President of the United States of America
The latest pleading from Special Counsel Robert Durham provides indisputable evidence that my campaign and presidency were spied on by operatives paid by the Hillary Clinton Campaign in an effort to develop a completely fabricated connection to Russia. This is a scandal far greater in scope and magnitude than Watergate and those who were involved in and knew about this spying operation should be subject to criminal prosecution. In a stronger period of time in our country, this crime would have been punishable by death. In addition, reparations should be paid to those in our country who have been damaged by this.
Statement by Donald J. Trump, 45th President of the United States of America
What Hillary Clinton and the Radical Left Democrats did with respect to spying on a President of the United States, even while in office, is a far bigger crime than Watergate. It will be interesting to see how it was covered by the media and what Mitch McConnell and the RINOs will be doing about it. This is an insult to the Republican Party, but a far greater insult to our Nation. Covered very powerfully this morning by Fox and Friends and, of course, Maria Bartiromo.
ADVERTISEMENT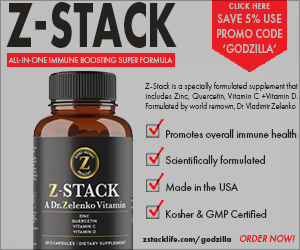 Dr. Vladimir Zelenko has been included in a group of doctors nominated for the Nobel Peace Prize for their role in addressing the coronavirus pandemic.
If the last 18 months have taught us anything it's that YOU have to take control of your own health. You can't rely on the government or big pharma. That's where Z-STACK comes in. Z-STACK is a specially formulated supplement that includes Zinc, Quercetin, Vitamin C, and Vitamin D. Formulated by Dr. Vladimir Zelenko the world-renowned doctor that President Trump credited with his successful early treatment protocol and his decision to take hydroxychloroquine. Go to https://zstacklife.com/godzilla and order TODAY!