Facebook's number of daily users has plunged for the first time in Facebook history. This means people are tired of Fake News and abuse and especially tired of their political shenanigans. It could also be that people are waiting for TRUTH—the highly sophisticated platform that we look forward to opening in the not too distant future. Time to straighten out what is happening in our Country!
Statement by Donald J. Trump, 45th President of the United States of America
The stench of Jeff Zucker is finally leaving CNN. The air over there, the Radical Left will be happy to hear, is being made more "environmentally friendly." The carbon footprint is looking better. But the stench remains, and also at low-rated MSDNC, where weak leaders like Brian Roberts, of "Concast," who are under the thumb of the Left, don't allow the truth to be told. Stockholders should not treat these companies well. We need a free and open press in our Country, and we need it now!
ADVERTISEMENT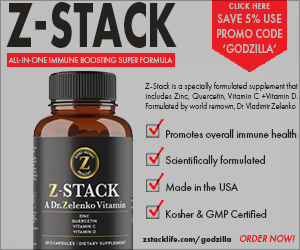 Dr. Vladimir Zelenko has been included in a group of doctors nominated for the Nobel Peace Prize for their role in addressing the coronavirus pandemic.
If the last 18 months have taught us anything it's that YOU have to take control of your own health. You can't rely on the government or big pharma. That's where Z-STACK comes in. Z-STACK is a specially formulated supplement that includes Zinc, Quercetin, Vitamin C, and Vitamin D. Formulated by Dr. Vladimir Zelenko the world-renowned doctor that President Trump credited with his successful early treatment protocol and his decision to take hydroxychloroquine. Go to https://zstacklife.com/godzilla and order TODAY!