Statement by Donald J. Trump, 45th President of the United States of America
Why isn't the Unselect Committee investigating the massive ballot harvesting operation that has just been irrefutably reported, on tape, in Georgia and other Swing States? Game changer, among many other game changers!
Statement by Donald J. Trump, 45th President of the United States of America
Why isn't the corrupt Unselect Committee of political hacks and highly partisan sleazebags in Washington investigating the massive voter fraud and irregularities that took place in the 2020 Presidential Election, rather than spending all of its time investigating those who were protesting its result? It was the Crime of the Century! Large-scale proof of fraud and serious irregularities exist all over the place. Also, why is Crazy Nancy Pelosi and her files, which reportedly have been largely destroyed and deleted, not under investigation for not properly securing the Capitol with Soldiers or the National Guard that were strongly recommended to her by me and others? I knew the crowd would be extraordinarily large because they were protesting the RIGGED ELECTION. Capitol security was her job, not the President's, and the American people now know that. If she did with security what she should have, there would have been no "January 6" as we know it. The Fake Unselect Committee wants nothing to do with that subject because they know it was the fault of Nancy Pelosi and, to a lesser extent, the Mayor of D.C. So, if I recommend Soldiers and if she refused to use them, why am I, and those around me, responsible for anything? We're not, plain and simple!
Statement by Donald J. Trump, 45th President of the United States of America
Jeff Zucker is not out at CNN for "concealing a relationship" as the Fake New York Times writes on its front-page headline. Zucker is happy and proud (and lucky!) that he can have a relationship. He is out because of horrible ratings down 90%, an all-time low!
ADVERTISEMENT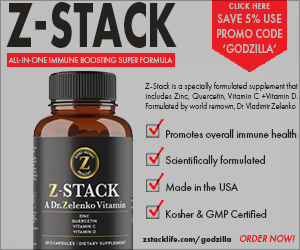 Dr. Vladimir Zelenko has been included in a group of doctors nominated for the Nobel Peace Prize for their role in addressing the coronavirus pandemic.
If the last 18 months have taught us anything it's that YOU have to take control of your own health. You can't rely on the government or big pharma. That's where Z-STACK comes in. Z-STACK is a specially formulated supplement that includes Zinc, Quercetin, Vitamin C, and Vitamin D. Formulated by Dr. Vladimir Zelenko the world-renowned doctor that President Trump credited with his successful early treatment protocol and his decision to take hydroxychloroquine. Go to https://zstacklife.com/godzilla and order TODAY!