So pathetic to watch the Unselect Committee of political hacks, liars, and traitors work so feverishly to alter the Electoral College Act so that a Vice President cannot ensure the honest results of the election, when just one year ago they said that "the Vice President has absolutely no right to ensure the true outcome or results of an election."
In other words, they lied, and the Vice President did have this right or, more pointedly, could have sent the votes back to various legislators for reassessment after so much fraud and irregularities were found. If it were sent back to the legislators, or if Nancy Pelosi, who is in charge of Capitol security, had taken my recommendation and substantially increased security, there would have been no "January 6" as we know it!
Therefore, the Unselect Committee should be investigating why Nancy Pelosi did such a poor job of overseeing security and why Mike Pence did not send back the votes for recertification or approval, in that it has now been shown that he clearly had the right to do so!
ADVERTISEMENT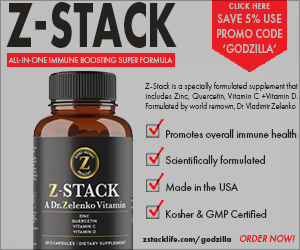 Dr. Vladimir Zelenko has been included in a group of doctors nominated for the Nobel Peace Prize for their role in addressing the coronavirus pandemic.
If the last 18 months have taught us anything it's that YOU have to take control of your own health. You can't rely on the government or big pharma. That's where Z-STACK comes in. Z-STACK is a specially formulated supplement that includes Zinc, Quercetin, Vitamin C, and Vitamin D. Formulated by Dr. Vladimir Zelenko the world-renowned doctor that President Trump credited with his successful early treatment protocol and his decision to take hydroxychloroquine. Go to https://zstacklife.com/godzilla and order TODAY!