If the Vice President (Mike Pence) had "absolutely no right" to change the Presidential Election results in the Senate, despite fraud and many other irregularities, how come the Democrats and RINO Republicans, like Wacky Susan Collins, are desperately trying to pass legislation that will not allow the Vice President to change the results of the election? Actually, what they are saying, is that Mike Pence did have the right to change the outcome, and they now want to take that right away. Unfortunately, he didn't exercise that power, he could have overturned the Election!
Statement by Donald J. Trump, 45th President of the United States of America
AT&T is closing the very popular One America News Network (OAN) because too many people are watching. They couldn't put up with that any longer. Conservatives/Republicans should boycott Direct TV, and while you're at it, "Concast's" Xfinity as well. These are Radical Left Lunatics who are destroying our Nation!
ADVERTISEMENT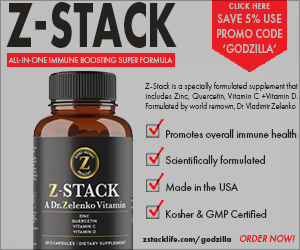 Dr. Vladimir Zelenko has been included in a group of doctors nominated for the Nobel Peace Prize for their role in addressing the coronavirus pandemic.
If the last 18 months have taught us anything it's that YOU have to take control of your own health. You can't rely on the government or big pharma. That's where Z-STACK comes in. Z-STACK is a specially formulated supplement that includes Zinc, Quercetin, Vitamin C, and Vitamin D. Formulated by Dr. Vladimir Zelenko the world-renowned doctor that President Trump credited with his successful early treatment protocol and his decision to take hydroxychloroquine. Go to https://zstacklife.com/godzilla and order TODAY!