Ted Budd, who I endorsed many months ago for the U.S. Senate, is now leading the pack in North Carolina. He is the true America First fighter who stands strong for the Second Amendment, fights for our great Military and Law Enforcement, and has tremendous courage fighting against the Woke Mob who wants to destroy America. I am proud of him, and he is going to win big. Ted Budd is the ONLY U.S. Senate candidate in North Carolina who has my Complete and Total Endorsement!
Statement by Donald J. Trump, 45th President of the United States of America
Some RINO Republicans in Wisconsin are working hand in hand with others to have drop boxes again placed in Wisconsin. These fools are playing right into the Democrats' hand. Drop boxes are only good for Democrats and cheating, not good for Republicans.
ADVERTISEMENT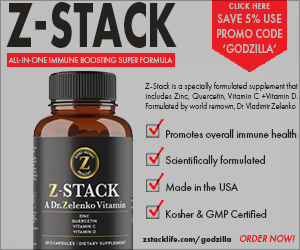 Dr. Vladimir Zelenko has been included in a group of doctors nominated for the Nobel Peace Prize for their role in addressing the coronavirus pandemic.
If the last 18 months have taught us anything it's that YOU have to take control of your own health. You can't rely on the government or big pharma. That's where Z-STACK comes in. Z-STACK is a specially formulated supplement that includes Zinc, Quercetin, Vitamin C, and Vitamin D. Formulated by Dr. Vladimir Zelenko the world-renowned doctor that President Trump credited with his successful early treatment protocol and his decision to take hydroxychloroquine. Go to https://zstacklife.com/godzilla and order TODAY!