Statement by Donald J. Trump, 45th President of the United States of America
My phone call to the Secretary of State of Georgia was perfect, perhaps even more so than my call with the Ukrainian President, if that's possible. I knew there were large numbers of people on the line, including numerous lawyers for both sides. Although I assumed the call may have been inappropriately, and perhaps illegally, recorded, I was not informed of that. I didn't say anything wrong in the call, made while I was President on behalf of the United States of America, to look into the massive voter fraud which took place in Georgia. Just last week, it was further determined that they are looking into ballot harvesting in Fulton County, after supposedly watching tapes of it actually taking place. This alone could be tens of thousands of votes. What this Civil Special Grand Jury should be looking into is not my perfect phone call, but the large-scale voter fraud that took place in Georgia. Then they would be doing a great job for the people. No more political witch hunts!
Statement by Donald J. Trump, 45th President of the United States of America
So let me get this straight, I am being investigated in Georgia for asking an Attorney General with many lawyers and others knowingly on the phone to look for corruption, which definitely took place in the Georgia Presidential election—but the people who committed the crime are in no way, shape, or form under investigation and are instead being protected? The people looking for the crime are being hounded and the people who committed the crime are being protected. This is not the American way.
ADVERTISEMENT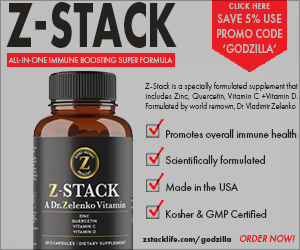 Dr. Vladimir Zelenko has been included in a group of doctors nominated for the Nobel Peace Prize for their role in addressing the coronavirus pandemic.
If the last 18 months have taught us anything it's that YOU have to take control of your own health. You can't rely on the government or big pharma. That's where Z-STACK comes in. Z-STACK is a specially formulated supplement that includes Zinc, Quercetin, Vitamin C, and Vitamin D. Formulated by Dr. Vladimir Zelenko the world-renowned doctor that President Trump credited with his successful early treatment protocol and his decision to take hydroxychloroquine. Go to https://zstacklife.com/godzilla and order TODAY!