Will Morning Joe be canceled? He and Mika's ratings are very low—they are having an extremely hard time finding an audience to listen to the Fake News they spurn.
Losing them would be very sad—hope it doesn't happen! On another front, looks like Unjoy Reid, the racist commentator on MSDNC (MSNBC), is toast. Her stupidity is only surpassed by her absolute lack of television persona. She never had it, and never will. The only thing she's good at is spewing racist hate but obviously, no one is listening!
ADVERTISEMENT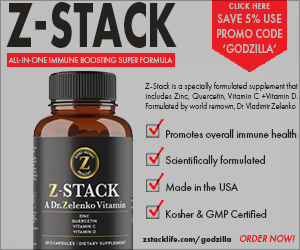 Dr. Vladimir Zelenko has been included in a group of doctors nominated for the Nobel Peace Prize for their role in addressing the coronavirus pandemic.
If the last 18 months have taught us anything it's that YOU have to take control of your own health. You can't rely on the government or big pharma. That's where Z-STACK comes in. Z-STACK is a specially formulated supplement that includes Zinc, Quercetin, Vitamin C, and Vitamin D. Formulated by Dr. Vladimir Zelenko the world-renowned doctor that President Trump credited with his successful early treatment protocol and his decision to take hydroxychloroquine. Go to https://zstacklife.com/godzilla and order TODAY!