The Unselect Committee of Radical Left Democrats, and two failed Republicans, has just dropped a large portion of their request for my records and documents—a very big story even though the New York Times refused to put it on the front page. The reason that they dropped the records request is that they don't want this horror show to happen to Biden and Hunter in three years. This also changes the entire complexion of their request, not that there are any documents that would be incriminating or a problem for me—but the Witch Hunt continues!
ADVERTISEMENT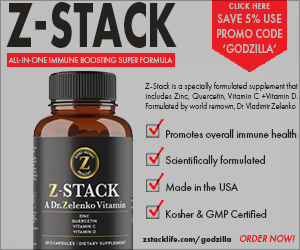 Dr. Vladimir Zelenko has been included in a group of doctors nominated for the Nobel Peace Prize for their role in addressing the coronavirus pandemic.
If the last 18 months have taught us anything it's that YOU have to take control of your own health. You can't rely on the government or big pharma. That's where Z-STACK comes in. Z-STACK is a specially formulated supplement that includes Zinc, Quercetin, Vitamin C, and Vitamin D. Formulated by Dr. Vladimir Zelenko the world-renowned doctor that President Trump credited with his successful early treatment protocol and his decision to take hydroxychloroquine. Go to https://zstacklife.com/godzilla and order TODAY!