Our nation is SUFFERING. Our economy is in the gutter. Inflation is rampant. Gas prices have reached an all-time high. Ships are unable to unload cargo. Families cannot get needed baby formula. We are an embarrassment around the world. Our withdrawal from Afghanistan was a disaster that cost us precious American blood, and gave $85 billion worth of the best military equipment on earth to our enemy.
Millions and millions of illegals are marching to the border and invading our country. We have a White House in shambles, with Democrats, just this week, declaring that Biden is unfit to run for reelection. And what is the Democrat Congress focused on? A Kangaroo Court, hoping to distract the American people from the great pain they are experiencing.
Seventeen months after the events of January 6th, Democrats are unable to offer solutions. They are desperate to change the narrative of a failing nation, without even making mention of the havoc and death caused by the Radical Left just months earlier. Make no mistake, they control the government. They own this disaster. They are hoping that these hearings will somehow alter their failing prospects.
A certain Democrat once said, "It's the economy, stupid." Well, Democrats now seem to think that Americans are "stupid." They are not. America is crumbling, and Democrats have no solutions. Our nation has no hope of change for the better under Democrat leadership. People are desperate. Rather than solving problems, Democrats are rehashing history in hopes of changing the narrative. During my time in office, our nation was thriving, our economy was strong, and the price of gas was very low. Above all else, we were respected, perhaps like never before.  America prospered under the Trump Administration.
Continue reading here.
ADVERTISEMENT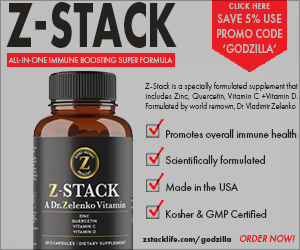 Dr. Vladimir Zelenko has been included in a group of doctors nominated for the Nobel Peace Prize for their role in addressing the coronavirus pandemic.
If the last 18 months have taught us anything it's that YOU have to take control of your own health. You can't rely on the government or big pharma. That's where Z-STACK comes in. Z-STACK is a specially formulated supplement that includes Zinc, Quercetin, Vitamin C, and Vitamin D. Formulated by Dr. Vladimir Zelenko the world-renowned doctor that President Trump credited with his successful early treatment protocol and his decision to take hydroxychloroquine. Go to https://zstacklife.com/godzilla and order today!