Panic sets in for the Left as their Marxist, lawless, no cops, no energy, mob rule, utopian welfare state begins to crumble…Dems figure out that Americans like their neighborhoods safe and their kids in school.
President Trump does, too.
Meanwhile, Richmond, Virginia becomes the first city in America to shutter all in classroom education and close schools until January 2021.
I guess when your high school drop out rate is 30 percent like Richmond and at least a quarter of the students don't have high-speed Internet the school board figured it doesn't matter anyway.
Another failing U.S. city run by Democrats.
Oh, and let's throw this in: Richmond Mayor Levar Stoney ran in 2016 as the "education mayor." Back then, the drop out rate was 20 percent. Now it's risen to 30 percent. Nice job, Levar.
Dem Freak Out: Trump Gaining On Weekend At Bernies 
President Trump has jumped back into the race and now trails Joe Biden by just three points in Rasmussen Reports' weekly White House Watch survey.
Rasmussen has consistently been one of the most honest and accurate polls in America.
The latest Rasmussen Reports national telephone and online survey find the likely Democratic presidential nominee earning 47% support among Likely U.S. Voters to Trump's 44%. Five percent (5%) prefer some other candidate. Four percent (4%) are undecided. (To see survey question wording, click here.)
With the legacy fake news in bash Trump 24-7 frenzy mode, I'll take minus three in July! Trump has over 100 days to turn the corner and win the election.
A week ago, in Rasmussen's first weekly White House Watch survey, Biden held a 10-point lead over Trump – 50% to 40%.
That's a seven-point gain in one week, by way of my Richmond City schools Abacus.
The new survey finds Trump with 79% of the Republican vote. Biden has the support of 76% of Democrats. Among voters not affiliated with either major party, it's Biden 44%, Trump 38%. A week ago, Biden had a 12-point lead among independents.
This is almost as good as my new GOYA chickpeas! They go great on salads, BTW. Buy some! Join the GOYA Buy-cot.
#JFRS #Godzilla Live from the Falkirk Center at Liberty University July 16-17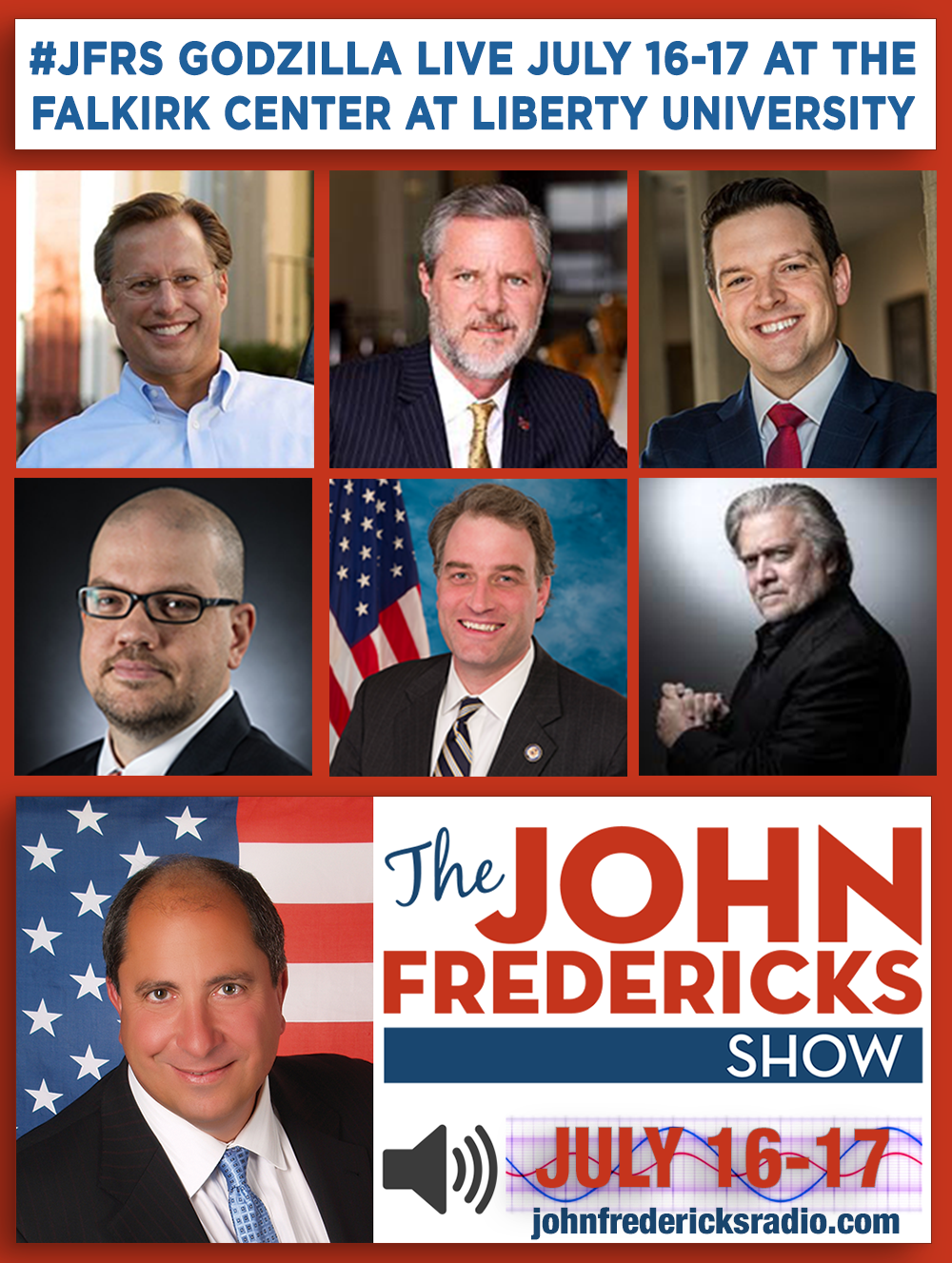 CLICK HERE for the full guest lineup for #JFRS and go to johnfredericksradio.com and click LISTEN LIVE – plus your calls all morning at 888-480-JOHN (5646). Be sure to tweet @jfradioshow and hashtag #GodzillaOfTruth