FOR IMMEDIATE RELEASE
MARCH 17, 2022
ATLANTA, GA – In case you missed it, President Donald Trump yesterday slammed 20-year career politician Brian Kemp and highlighted his complete and total endorsement of David Perdue in the race for Governor of Georgia. On Saturday, March 26, Trump will travel to Georgia to hold a rally for Perdue in Commerce.
Highlights From Trump's Statement:
"David is a fearless and outstanding conservative leader, and he is the ONLY candidate who can beat Stacey "The Hoax" Abrams this November."
"As a United States Senator, David stood up to the Radical Left – and he was always a champion for strong, secure borders. As Governor, David will eliminate the Georgia Income Tax, and he will put PARENTS back in charge of Georgia schools. David truly loves his state and his country, and he has my Complete and Total Endorsement."
"David is running against Brian Kemp, a horrendous RINO who has betrayed the people of Georgia, and betrayed Republican voters. As Governor, Brian Kemp has repeatedly surrendered to Stacey Abrams and the Radical Left."
"A vote for RINO Brian Kemp in this primary is a vote for Governor Stacey Abrams. A vote for David Perdue is a vote to save Georgia from the Radical Left!"
"Together, we will FIRE Brian Kemp, we will RESTORE Election Integrity in Georgia, and we will Make America Great Again!"
CONTACT PRESS@DAVIDPERDUEGA.COM
###
Statement by Donald J. Trump, 45th President of the United States of America
Speaker Robin Vos, of the Great State of Wisconsin, just said there was "widespread fraud" in the 2020 Presidential Election, but that the State Legislature cannot do anything about it. Wrong! If you rob the diamonds from a jewelry store, if you get caught, you have to give the diamonds back, votes should be no different. There is already a very powerful resolution in the Wisconsin State Assembly that calls for the decertification of the 2020 Election and reclaiming of Wisconsin's 10 electoral votes. There is so much fraud, as Vos knows, that this should be done quickly and easily. The highly respected Special Counsel, Michael Gableman, has exposed so much already, including election bribery with Mark Zuckerberg's $8.8 million, horrific fraud stealing votes from the elderly in nursing homes, and rampant ballot harvesting and phantom votes. Far more votes than is needed for the Republican candidate, me, to win. Our Country would not be in the mess it's in if Republicans had the courage to act. We would be energy independent, no inflation, the Ukraine desecration would not be happening, our economy would be strong, there would have been no surrender in Afghanistan, and so much else. Speaker Vos should do the right thing and correct the Crime of the Century—immediately! It is my opinion that other states will be doing this, Wisconsin should lead the way!
ADVERTISEMENT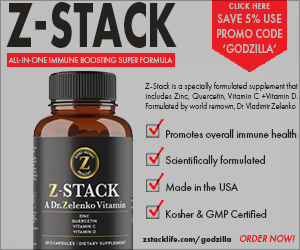 Dr. Vladimir Zelenko has been included in a group of doctors nominated for the Nobel Peace Prize for their role in addressing the coronavirus pandemic.
If the last 18 months have taught us anything it's that YOU have to take control of your own health. You can't rely on the government or big pharma. That's where Z-STACK comes in. Z-STACK is a specially formulated supplement that includes Zinc, Quercetin, Vitamin C, and Vitamin D. Formulated by Dr. Vladimir Zelenko the world-renowned doctor that President Trump credited with his successful early treatment protocol and his decision to take hydroxychloroquine. Go to https://zstacklife.com/godzilla and order today!