ATLANTA, GA – David Perdue, candidate for Governor, today released the following statement:
"Bonnie and I believe that every child is a gift from God. Any ruling from the Supreme Court that would save innocent lives would be a historic milestone. If I were Governor when this ruling was issued, I would immediately call the legislature back into a special session to ban abortion in Georgia."
###
Trump-endorsed David Perdue launched his campaign for Governor of Georgia on Dec. 6th, 2021. As an outsider, Perdue's bold, conservative vision includes fighting for election integrity, eliminating the state income tax, empowering parents to make decisions in their children's education, and making our cities and state safe again. Perdue is taking on incumbent Brian Kemp as the only candidate who can unite Georgia's fractured Republican Party and defeat Stacey Abrams in November.
Perdue grew up in Middle Georgia, the son of two public school teachers, and paid his way through Georgia Tech by working warehouse and construction jobs. He has over 40 years of business experience, leading the Reebok athletic brand and Dollar General stores, where he created thousands of jobs for hard-working Americans.
Photo courtesy of The Georgia Star.
ADVERTISEMENT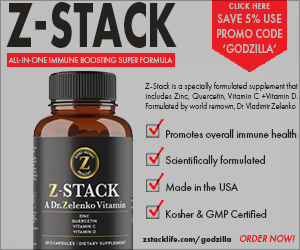 Dr. Vladimir Zelenko has been included in a group of doctors nominated for the Nobel Peace Prize for their role in addressing the coronavirus pandemic.
If the last 18 months have taught us anything it's that YOU have to take control of your own health. You can't rely on the government or big pharma. That's where Z-STACK comes in. Z-STACK is a specially formulated supplement that includes Zinc, Quercetin, Vitamin C, and Vitamin D. Formulated by Dr. Vladimir Zelenko the world-renowned doctor that President Trump credited with his successful early treatment protocol and his decision to take hydroxychloroquine. Go to https://zstacklife.com/godzilla and order today!