May 13, 2022: Outside the Beltway with John Fredericks @jfradioshow Trump Storms Georgia!!! President Donald J. Trump Joins The Real Georgia Speaks Team Trump Bus Tour On Outside The Beltway With John Fredericks.
John Fredericks is a conservative talk radio host, media guru, and patriotic voice for America. On Outside the Beltway with John Fredericks on Real America's Voice News, Fredericks and his guests discuss the issues important to Americans. #OTB #GodzillaOfTruth #TruckingTheTruth #OracleOfDeplorables
WATCH THE FULL EPISODE ON RUMBLE:
https://rumble.com/v14n9xf-live-with-the-real-georgia-speaks-team-trump-bus-tour-trump-storms-georgia.html?mref=grx4r&mc=92wzg
ADVERTISEMENT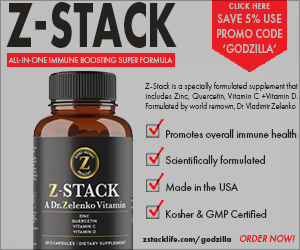 Dr. Vladimir Zelenko has been included in a group of doctors nominated for the Nobel Peace Prize for their role in addressing the coronavirus pandemic.
If the last 18 months have taught us anything it's that YOU have to take control of your own health. You can't rely on the government or big pharma. That's where Z-STACK comes in. Z-STACK is a specially formulated supplement that includes Zinc, Quercetin, Vitamin C, and Vitamin D. Formulated by Dr. Vladimir Zelenko the world-renowned doctor that President Trump credited with his successful early treatment protocol and his decision to take hydroxychloroquine. Go to https://zstacklife.com/godzilla and order today!