"In an inexplicable decision, Ron DeSanctimonious showed up on CNN last night for an interview that turned into a microcosm of his entire campaign thus far—uninspiring, pathetic, short-sighted, and embarrassing.
Things got so bad that DeSanctus bobbed his head around, nervously fidgeted, and wildly flailed his arms as he realized the interview was not what he or his team had expected.
It also didn't help that Ron was sitting so low in his chair that he resembled a child looking up at his mother as he was getting thoroughly spanked.
It was so uneventful that even his political operation Always Back Down decided to tweet about football instead of the embarrassing trainwreck on CNN.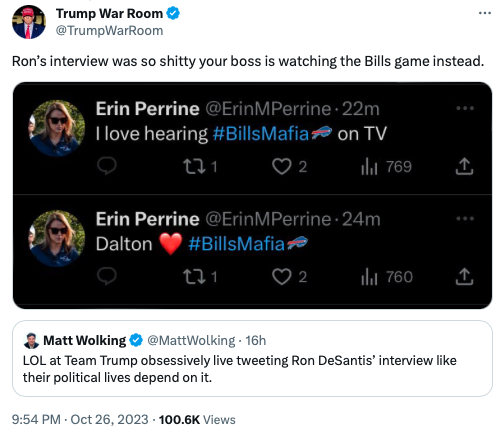 And for all the talk Team DeSanctus likes to make about the Trump Administration's personnel hires, they seem to have a controversy of their own. One of Ron's top officials just resigned amid charges of creating a hostile workplace and abusing staff.
It's time for Ron to take a one way ticket back home and if he doesn't make that decision for himself, the voters will."
— Steven Cheung, Trump spokesperson
The latest stop on Ron's humiliation tour brought him to CNN studios for a sit-down with Kaitlan Collins. The interview was nothing short of a total dumpster fire for DeSanctus.

Ron looked childish as he flailed his arms and vigorously bobbled his head in a chair seemingly several inches lower than Collins'… an accurate symbol of his entire campaign.
In the latest Texas poll, DeSanctimonious trails President Trump by 49 points, with Ron registering only 13% support in the Lone Star State.
BREITBART — Florida Jewish Republican Switches from DeSantis to Trump: 'Our Choice as Jews Is Simple'
FOX NEWS — Joe Rogan expresses nostalgia for Trump era, says country was 'without a doubt' better than under Biden
---
ICYMI: "Why Trump Is Right About Tariffs"
Read the op-ed by Oren Cass in The Wall Street Journal here.