"If DeSantis thinks he's such a master debater and is so delusional to challenge President Trump to a one-on-one debate, he needs to be committed to a medical facility for a proper mental evaluation. With overwhelming analysis saying Ron was the biggest loser at the debate, President Trump scored a victory without having to be there. This is a desperate attempt by a flailing candidate in the last throes of his campaign doing everything it can for relevancy.
The only thing missing in action at the debate was DeSanctus' personality and ability to connect with voters. Instead, he was on his tippy toes trying to appear taller and slathering on makeup during commercial breaks. His team loves to ask on X, "can a man be a woman?" Maybe they should ask their own candidate for an answer."
—Steven Cheung, Trump spokesperson
On August 24, 2023, Always Back Down consultant Jeff Roe gave Ron DeSanctimonious 60 days to "beat Trump."
In another bland and mediocre debate performance, DeSanctus' most viral moment was a clip of him awkwardly standing on his tiptoes while getting extra makeup slathered on his face in a commercial break.
Fifth place candidate Ron DeSanctimonious decided to enter into an unholy alliance with Crooked Joe Biden to attack President Trump (who is beating both DeSanctus and Crooked in the polls).
From Newsweek:
Florida Governor Ron DeSantis' lack of charm and inability to get out of former President Donald Trump's shadow during Wednesday night's GOP primary debate once again hindered his White House ambitions, analysts say.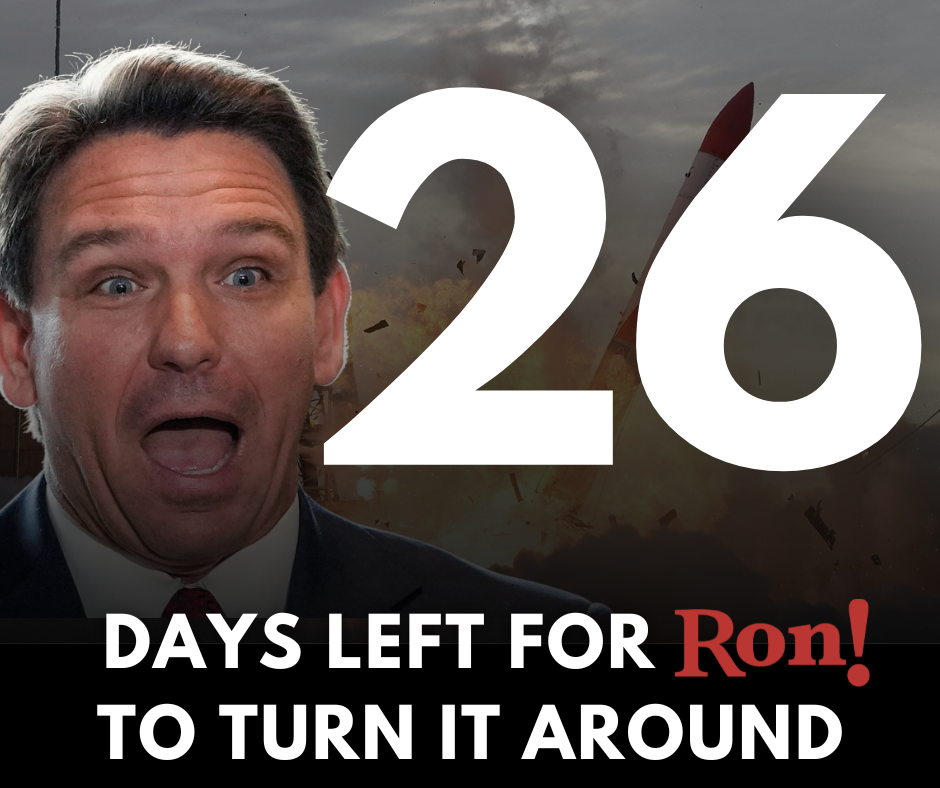 RSBN — Trump stays dominant in the polls as DeSantis trails behind
THE NEW REPUBLIC — Ron DeSantis's Painfully Weird Smile Goes Viral During GOP Debate Once Again