"Ron DeSanctimonious is missing in action in Iowa, the state he's supposedly making his Alamo. Maybe he's given up after his poorly attended events and lackluster fundraising. In any case, this race is over for Ron and he needs to go back home to Florida and endorse President Trump. If he doesn't, he's aiding and abetting the enemy—Crooked Joe Biden."
—Steven Cheung, Trump spokesperson
On August 24, 2023, Always Back Down consultant Jeff Roe gave Ron DeSanctimonious 60 days to "beat Trump."
22 days to go, and Ron has gone totally AWOL. It's been more than two weeks since Ron has been seen in Iowa, while President Trump has been pounding the pavement across the Hawkeye State.
Then again, Ron DeSanctimonious couldn't draw enough of a crowd to fill a classroom.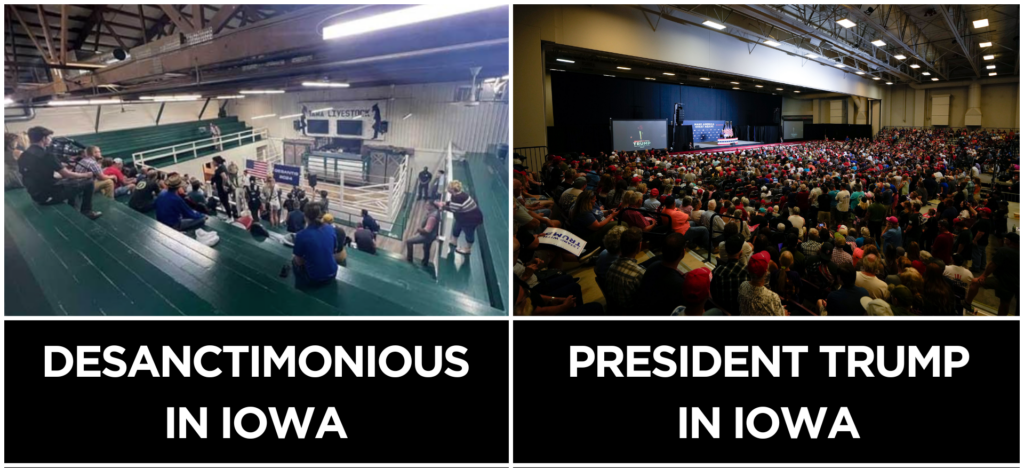 Ron has also been AWOL in speaking out against the corrupt attacks by the crooked and racist New York AG Letitia James.
As President Trump visited Iowa yesterday, it's important not to forget that Ron supported killing a federal mandate that is widely supported by the ethanol industry, but now all of the sudden is masquerading as a friend to Iowa ethanol producers.
DeSanctus won't protect Medicare and Social Security for America's seniors, but in typical politician form, Ron has flip-flopped completely on the issue.
As a congressman, DeSanctus voted to raise the eligibility age to 70 to receive full Social Security benefits—in 2013, in 2014, and in 2015.
Before he was even elected to Congress, he said it was "necessary to make reforms" to Social Security.
On DeSanctus' first day in Congress, he called "to restructure some of these entitlements," such as Social Security.
In Congress, DeSanctimonious voted twice to cut Medicare benefits in 2015 and 2017.
A disciple of Paul Ryan/RINO, DeSanctus said in one interview, "I would embrace proposals like Paul Ryan offered, and other people have offered, that are going to provide some market forces in there, more consumer choice, and make it so that it's not just basically a system that's just going to be bankrupt when you have new people coming into it."
Ron's poor attempt to cosplay as MAGA has been totally exposed and that's why voters have rejected Ron at every turn. The more that DC insiders, Never Trumpers, mainstream media, and the crooked grifter-consultant class have pushed Ron, the lower he has sunk in the polls.
Buckle up, Ron. It's going to get a lot worse.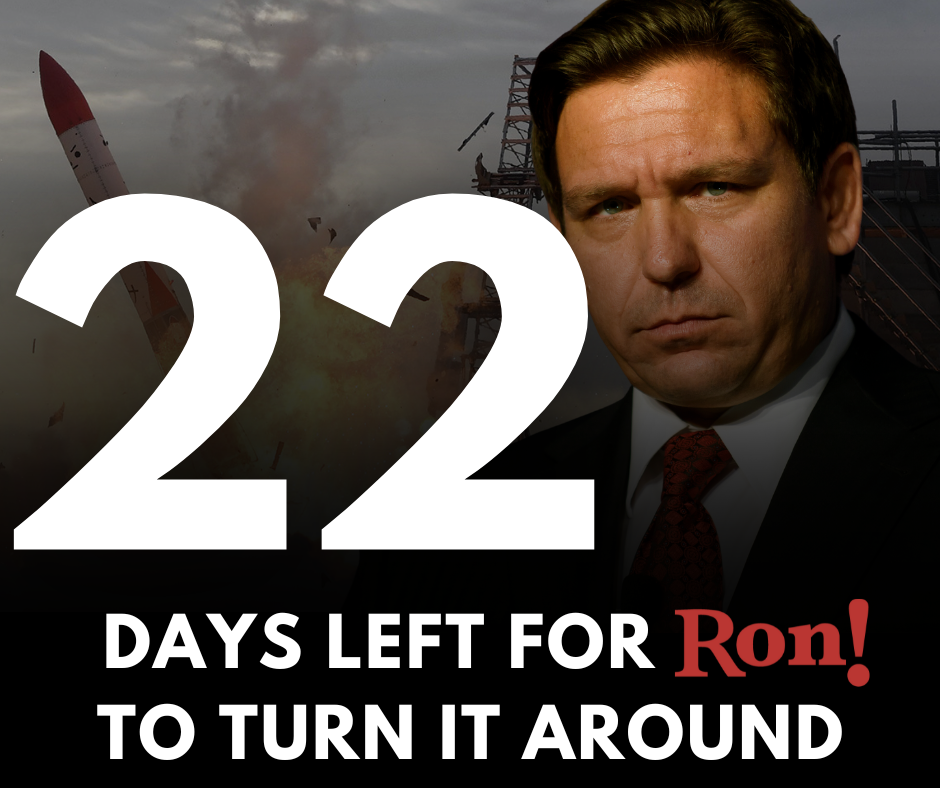 AP NEWS — Trump campaigns before thousands in friendly blue-collar, eastern Iowa, touting trade, farm policy
RSBN — Trump supports Iowa ethanol, attacks DeSantis: 'He'll stab you in the back just like he stabbed MAGA in the back'
THE MESSENGER — Trump Slaps DeSantis as 'Injured Falling Bird' to Iowa Crowd: 'He's a Bad Seed'
---
KISS OF DEATH COUNTDOWN: 23 Days Left
"Ron DeSanctomonious has exactly 23 days left to overcome a 50 point deficit, build an actual grassroots and political operation, and raise tens of millions of dollars. Instead, he's fallen further behind in the polls, laid off staff, and is struggling to raise cash. Not exactly a recipe for success.
Considering he had to give a speech from a much smaller room at the CAGOP convention this weekend because nobody wanted to listen to the garbage he was spewing, the DeSanctus campaign's impact has gone from Tiny to downright Micro.
But it's a new week, and maybe they can turn things around. Then again, maybe DeSanctus will find new ways to embarrass and humiliate himself on the campaign trail. Unfortunately for Ron, you can't coach personality!"
—Steven Cheung, Trump spokesperson
On August 24, 2023, Always Back Down consultant Jeff Roe gave Ron DeSanctimonious 60 days to "beat Trump."
With a little more than three weeks to go, Ron seems to be in the bargaining phase of the Ron DeSanctimonious Stages of Grief.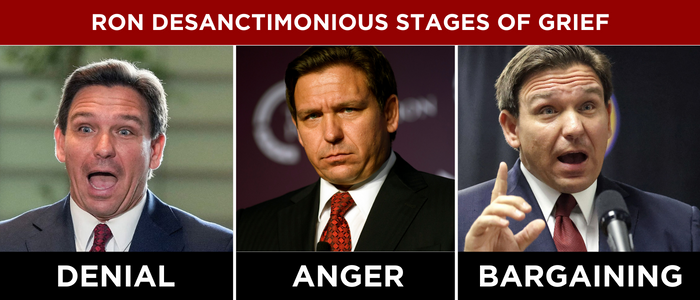 We've seen Ron deny, deny, deny his absolutely catastrophic collapse in the polls… in national polls, in early state polls, in general election polls.
We've seen Ron lash out… perhaps, as he began to realize just how badly he'd bungled his campaign and his decision to enter the race in the first place.
Now, the DeSanctimonians are attempting to bargain with themselves in an effort to rationalize a harsh reality: DeSanctus' campaign is dead.
In a recent Reuters article, DeSanctus advisors and donors tried to explain away the dumpster fire they set ablaze.
"If only he had jumped in sooner," they pleaded. "If only he had the courage to attack President Trump (even if he had to lie)."
With every coming day, it seems comes a new poll showing Ron crashing to an all-new low. (See: Messenger poll)
If Ron's campaign miraculously survives the next 23 days, he can soon begin the final stage: acceptance.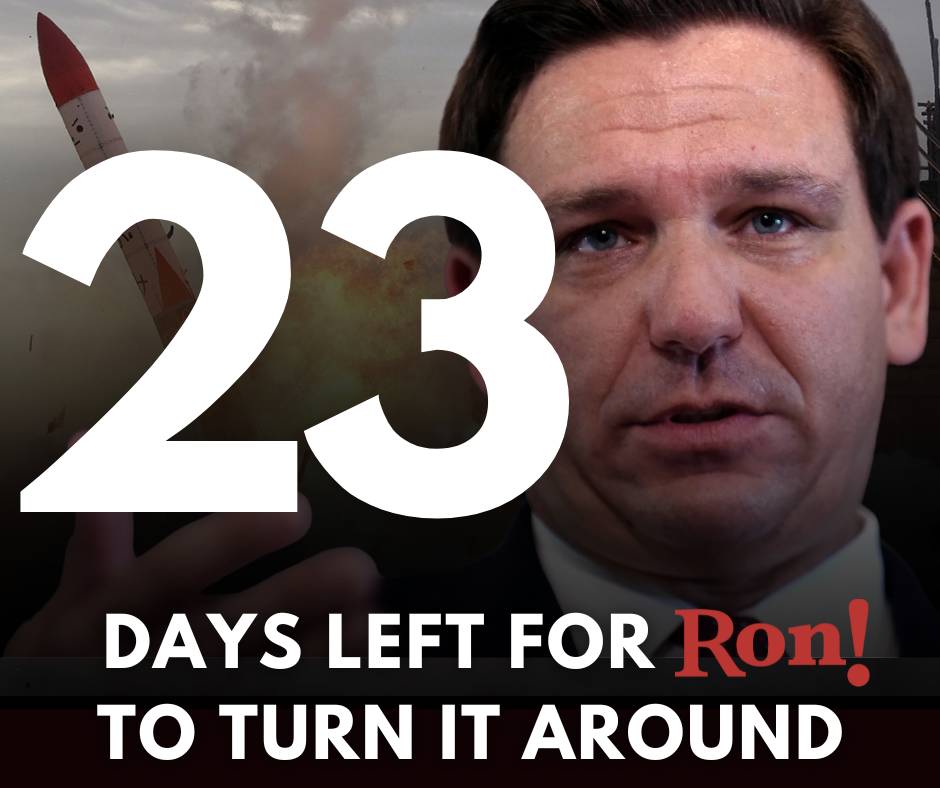 FOX NEWS — Bill Maher grills DeSantis on path to defeat Trump: If things were going well, 'you wouldn't be on this show'
GATEWAY PUNDIT — Ungrateful Ron DeSantis' Latest Outings Show a Complete Disregard for Trump Voters and Dislike of Kari Lake
---
ICYMI: "Trump aims to lock down supporters in Iowa counties that he flipped from Democrats in 2016"
Read the story by Thomas Beaumont of the Associated Press here.