"As Ron DeSanctimonious adopts a basement strategy, he hasn't been to Iowa—the one state he's going all in—for more than two weeks.
Reports also indicate that donors believe he's only raised between $10 and $25 million in the third quarter, an anemic figure that further proves DeSanctus and his campaign's chances are shriveling up.
On top of that, he continues to get killed in poll after poll, showing Biden consistently beats him by wide margins. Meanwhile, President Trump has opened up large leads over Crooked Joe, proving he's the only candidate who can win a general election.
It seems like Ron is having the worst start to the week out of all the candidates. That's saying something."
—Steven Cheung, Trump spokesperson
On August 24, 2023, Always Back Down consultant Jeff Roe gave Ron DeSanctimonious 60 days to "beat Trump."
With exactly three weeks left to meet Roe's deadline, the DeSanctimonians have taken to an odd, new strategy: admit defeat.
The DeSanctimonious Super PAC "Always Back Down" openly released new internal polling showing just how ugly it is for Ron.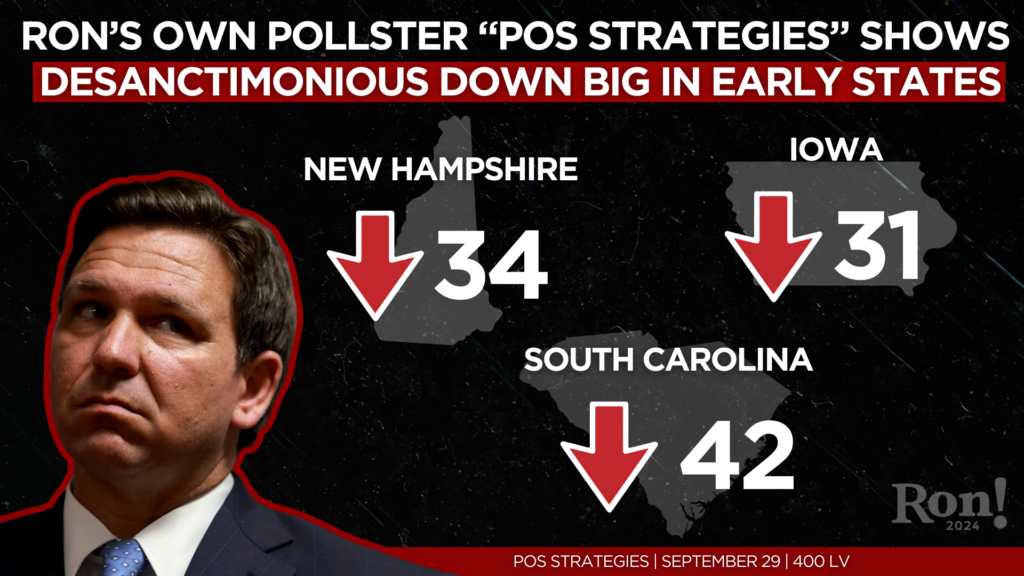 According to POS Strategies, Ron now trails President Trump by 31 points in Iowa, 34 points in New Hampshire, and a whopping 42 points in South Carolina.
From a Florida Politics story, titled "Ron DeSantis losing half his support in South Carolina, according to his own pollster":
Presidential candidate Ron DeSantis is in the midst of a Palmetto State plunge, according to a pollster that has done work for his campaign throughout this cycle.
The survey, conducted between Sept. 28 and Oct. 1 by Public Opinion Strategies for the Citizen Awareness Project, shows the Governor at 11% support among 400 likely voters in next year's South Carolina Presidential Primary.
That's down from 24% in a poll conducted June 1, meaning that the Florida Governor has lost more than 50% of his support in the last four months.
As it seems, Ron DeSanctus is so bad his own supporters, few though they may be, say they are willing to leave the Republican Party and will support pro-abortion, anti-gun RFK in the 2024 election.
It's now or never, Ron. Tick Tock!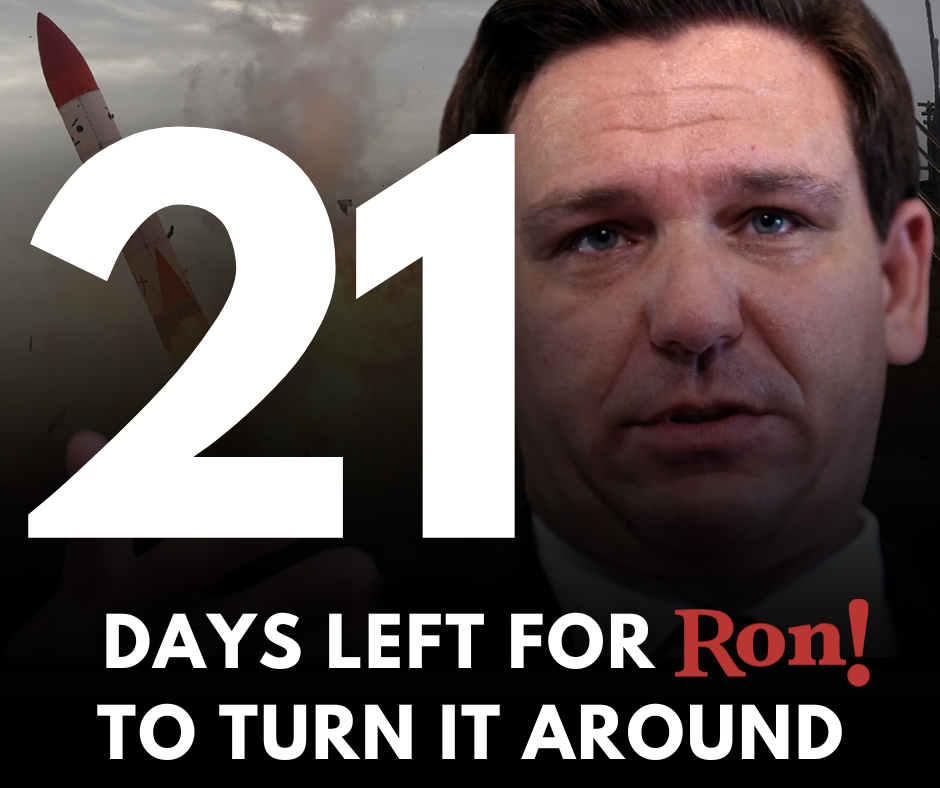 THE GATEWAY PUNDIT — JUST-IN: President Trump Holds BIGGEST LEAD YET, 51 POINTS Over DeSantis With 63% Total Support in Post Debate Poll – Trump Trolls Low Debate Viewership: "Lowest in The History of Debates" (VIDEO)
PUCK NEWS — DeSantis Fatigue & G.O.P. Grief Therapy