Statement by Donald J. Trump, 45th President of the United States of America
Today, the worst "election integrity" Governor in the country, Brian Kemp, loaded the great state of Georgia up with RINOs. That's right, he had them all. Chris Christie, Doug Ducey from Arizona, and Pete Ricketts from Nebraska. That tells you all you need to know about what you are getting in Georgia—just a continuation of bad elections and a real RINO if you vote for Brian Kemp.
Statement by Donald J. Trump, 45th President of the United States of America
"2000 Mules" is now available for digital download. Every American must see this movie. It's the most important political documentary ever made because it reveals with irrefutable proof what really happened in the 2020 Election. The film is now on two great platforms where the Radical Left cannot censor it or take it down. Watch at SalemNow.com or 2000Mules.locals.com.
ADVERTISEMENT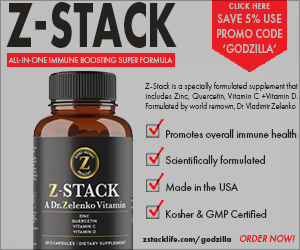 Dr. Vladimir Zelenko has been included in a group of doctors nominated for the Nobel Peace Prize for their role in addressing the coronavirus pandemic.
If the last 18 months have taught us anything it's that YOU have to take control of your own health. You can't rely on the government or big pharma. That's where Z-STACK comes in. Z-STACK is a specially formulated supplement that includes Zinc, Quercetin, Vitamin C, and Vitamin D. Formulated by Dr. Vladimir Zelenko the world-renowned doctor that President Trump credited with his successful early treatment protocol and his decision to take hydroxychloroquine. Go to https://zstacklife.com/godzilla and order today!