RICHMOND, Virginia—The John Fredericks Media Network has acquired WVCH AM 740 and 103.3 FM in Chester and Malvern, PA, and will operate 95.3 FM in Pennsauken, N.J to become WJFP-AM 740, 103.3 FM, and 95.3 FM.
The new radio signal additions to the John Fredericks Media Network will give the company enormous reach into Philadelphia, all surrounding suburbs, half of Delaware — south to Dover and all of Wilmington and most of South Jersey.
Fredericks also owns or operates four radio stations in Central Virginia – WJFN-AM 820 and WJFN-FM 100.5 FM, 92.7 FM, and 107.7 FM, as well as WMLB AM 1690 in Atlanta.
READ THE FULL REPORT HERE: https://mailchi.mp/johnfredericksradio/wjfp-radio-media-release
Statement by Donald J. Trump, 45th President of the United States of America
Big night in Texas! All 33 candidates that were Trump endorsed have either won their primary election or are substantially leading in the case of a runoff. Governor Abbott and Lieutenant Governor Dan Patrick have won in a landslide. Thank you, and congratulations to all!
ADVERTISEMENT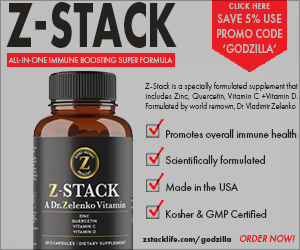 Dr. Vladimir Zelenko has been included in a group of doctors nominated for the Nobel Peace Prize for their role in addressing the coronavirus pandemic.
If the last 18 months have taught us anything it's that YOU have to take control of your own health. You can't rely on the government or big pharma. That's where Z-STACK comes in. Z-STACK is a specially formulated supplement that includes Zinc, Quercetin, Vitamin C, and Vitamin D. Formulated by Dr. Vladimir Zelenko the world-renowned doctor that President Trump credited with his successful early treatment protocol and his decision to take hydroxychloroquine. Go to https://zstacklife.com/godzilla and order TODAY!