Statement by Donald J. Trump, 45th President of the United States of America
Joe Rogan is an interesting and popular guy, but he's got to stop apologizing to the Fake News and Radical Left maniacs and lunatics. How many ways can you say you're sorry? Joe, just go about what you do so well and don't let them make you look weak and frightened. That's not you and it never will be!
Statement by Donald J. Trump, 45th President of the United States of America
If AT&T/DirecTV cancels OAN, I hope that everyone will boycott and cancel DirecTV. It is a very popular channel, far more popular than most would understand, and they are being treated horribly by the Radical Left lunatics running the networks. Instead of being allowed to grow, their voice is being shuttered. Don't let it happen, cancel DirecTV. If you feel infringed by what this Communist movement is doing, cancel DirecTV!
Note: John Fredericks cancelled DirectTV Saturday after seven years and went with The Dish Network. Screw them!
ADVERTISEMENT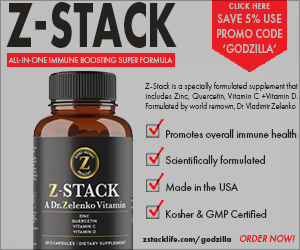 Dr. Vladimir Zelenko has been included in a group of doctors nominated for the Nobel Peace Prize for their role in addressing the coronavirus pandemic.
If the last 18 months have taught us anything it's that YOU have to take control of your own health. You can't rely on the government or big pharma. That's where Z-STACK comes in. Z-STACK is a specially formulated supplement that includes Zinc, Quercetin, Vitamin C, and Vitamin D. Formulated by Dr. Vladimir Zelenko the world-renowned doctor that President Trump credited with his successful early treatment protocol and his decision to take hydroxychloroquine. Go to https://zstacklife.com/godzilla and order TODAY!