Capitol Police compiled a secret after-action review months after the Jan. 6 riots that identified sweeping blunders by the department ranging from delayed deployment of specialized civil disturbance units to the fateful dismantling of an intelligence unit that monitored social media for threats.
Identifying 53 areas of failure needing corrective action, the June 4, 2021 report, obtained by Just the News, produces a far more stark portrait of leadership failures than those offered by Democrat-led investigations, making abundantly clear that the Capitol Police under House Speaker Nancy Pelosi were ill-equipped to defend one of America's most symbolic and high-value institutions two decades after the Sept. 11 attacks.
Read the full article by John Solomon with Just the News here.
ADVERTISEMENT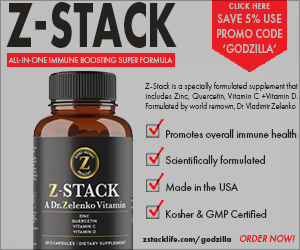 Dr. Vladimir Zelenko has been included in a group of doctors nominated for the Nobel Peace Prize for their role in addressing the coronavirus pandemic.
If the last 18 months have taught us anything it's that YOU have to take control of your own health. You can't rely on the government or big pharma. That's where Z-STACK comes in. Z-STACK is a specially formulated supplement that includes Zinc, Quercetin, Vitamin C, and Vitamin D. Formulated by Dr. Vladimir Zelenko the world-renowned doctor that President Trump credited with his successful early treatment protocol and his decision to take hydroxychloroquine. Go to https://zstacklife.com/godzilla and order today!