The November 2020 election proved to be a pivotal breaking point for the Republican Party in Georgia, and it continues to be a point of contention. As a young lawyer, it was heartbreaking to see what unfolded in real-time, but also what did not unfold. Leadership was scarce and naysayers were loud when it came to any utterance of questioning the election results. Until recently.  
The Georgia Election Board has just sent subpoenas to the voter integrity organization True the Vote, founder Catherine Engelbrecht, the OPSEC Group, and its founder Gregg Phillips to produce evidence related to a ballot harvesting operation in Georgia. Coincidently, the deadline for document production is today.  
Rumors started swirling in April 2021 about a potential ballot harvesting scheme, which True the Vote has now coined as "ballot trafficking." It is described as similar to how drug mules and drug dealers operate, but with ballots. Both types of operations are illegal in Georgia. 
Then, there was a meeting with members of Gov. Brian Kemp's office and the Georgia Bureau of Investigation to present portions of the alleged evidence found. In subsequent months, there was back and forth between True the Vote and its data team with multiple government agencies in an attempt to initiate a formal investigation. In September 2021, GBI Director Vic Reynolds sent a letter to True the Vote and state GOP Chairman David Shafer stating there was not enough evidence to initiate such an investigation. Yet it's important to point out that the reason evidence was withheld originally was because True the Vote was worried the agency would leak confidential information that would jeopardize the integrity of the evidence and any other ongoing investigations. It was right. 
ALSO READ FROM THE GEORGIA STAR NEWS: Investigators in Georgia ballot harvesting probe zero in on funding, eyewitness whistleblower
Shortly after the GBI letter was indeed leaked to multiple media outlets detailing the evidence and names of data analysts for True the Vote, formal complaints were submitted to the Secretary of State's office on November 30, 2021.  
This is where things get interesting.  
Fast forward to January 2022 when Secretary of State Brad Raffensperger announces that his office will be investigating the complaints. Specifically, the claims that there were 242 ballot "traffickers" making an average of 23 runs per day to drop boxes, totaling 5,662 ballot drops. Originally discovered by geospatial data and cell phone tracking, the claims are said to be confirmed by dropbox surveillance footage. This is the same video footage slated to be released in motion picture format on May 2 by Dinesh D'Souza called "2,000 Mules." The trailer for the movie shows people depositing multiple ballots in a box during a single visit (many visits occurring in the middle of the night), taking pictures of themselves doing so while wearing gloves and masks.  
READ THE FULL STORY HERE: https://insideradvantage.com/2022/04/28/illegal-ga-ballot-harvesting-evidence-being-sought/
ICYMI: "Poll: Only 37 Percent of Voters Want Joe Biden to Run in 2024"

Read the full article by Wendell Husebo with Breitbart here.
ICYMI: "Biden's Net Approval Rating Is Underwater in 40 States"

Read the full article by Eli Yokley with the Morning Consult here.
ADVERTISEMENT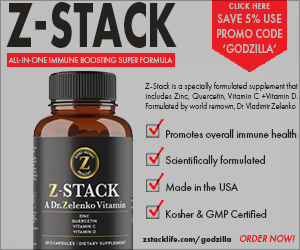 Dr. Vladimir Zelenko has been included in a group of doctors nominated for the Nobel Peace Prize for their role in addressing the coronavirus pandemic.
If the last 18 months have taught us anything it's that YOU have to take control of your own health. You can't rely on the government or big pharma. That's where Z-STACK comes in. Z-STACK is a specially formulated supplement that includes Zinc, Quercetin, Vitamin C, and Vitamin D. Formulated by Dr. Vladimir Zelenko the world-renowned doctor that President Trump credited with his successful early treatment protocol and his decision to take hydroxychloroquine. Go to https://zstacklife.com/godzilla and order today!