Former President Donald Trump holds a commanding lead over other potential Republican candidates in the 2024 presidential election, leading Fla. Gov. Ron DeSantis by 43 percentage points, a new poll shows.
Asked who they would support in the 2024 election, 54 percent of ​Republicans picked Trump, while 11 percent chose DeSantis and 8 percent picked former Vice President Mike Pence, a Reuters/Ipsos poll conducted last month and released Friday found.
Trump has not officially announced another run for the White House, but he has said he's "thinking about it."
"I think a lot of people will be very happy, frankly, with the decision, and probably will announce that after the midterms," he said in an interview in November.
Read the full article by Mark Moore with the New York Post here.
ADVERTISEMENT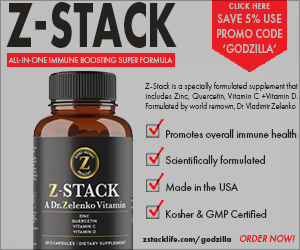 Dr. Vladimir Zelenko has been included in a group of doctors nominated for the Nobel Peace Prize for their role in addressing the coronavirus pandemic.
If the last 18 months have taught us anything it's that YOU have to take control of your own health. You can't rely on the government or big pharma. That's where Z-STACK comes in. Z-STACK is a specially formulated supplement that includes Zinc, Quercetin, Vitamin C, and Vitamin D. Formulated by Dr. Vladimir Zelenko the world-renowned doctor that President Trump credited with his successful early treatment protocol and his decision to take hydroxychloroquine. Go to https://zstacklife.com/godzilla and order TODAY!