Former President Donald Trump leads President Joe Biden by five percentage points in a potential 2024 matchup, a Thursday Redfield and Wilton Strategies poll revealed.
Trump was marked at 43 percent, while Biden notched only 38 percent.
The poll also showed that 87 percent of those who voted for Trump in 2020 would vote for him again, up two percentage points from March. In contrast, 77 percent of those who voted for Biden would do so again, down two percentage points since March.
NEW: @RedfieldWilton

2024 Presidential National Election:
Donald Trump (R): 43% (+5)
Joe Biden (D): 38%

Donald Trump (R): 44% (+9)
Kamala Harris (D): 35%

N=1,500 LV / 04/03/2022https://t.co/yvVZtDi5dd

— InteractivePolls (@IAPolls2022) April 7, 2022
Read the full article by Wendell Husebo with Breitbart here.
Statement by Donald J. Trump, 45th President of the United States of America
Last night's debate in Georgia was a BIG win for David Perdue, who exposed Brian Kemp as the RINO that we all know him to be. It also showed how important it is for the MAGA voters to go and support David Perdue in the Election. It is not easy to beat an incumbent, however, if our voters turn out, David Perdue will win in a landslide. A lot is on the line, including record-setting CRIME, which Brian Kemp has done nothing about, letting great communities like Buckhead be overrun by theft, murders, shootings, and drug deals.
David Perdue will fight for Georgia, and he is the only Republican who can beat Stacey "The Hoax" Abrams, because MAGA voters will not come out to vote for Kemp. Very sadly, a Kemp win will negatively affect the great Herschel Walker's race for the Senate—it will be very hard for him to win with Kemp on the ticket. Don't let the Democrats, or the RINOs, win in Georgia. Vote for David Perdue, a really wonderful man who will be a great Governor!
Statement by Donald J. Trump, 45th President of the United States of America
The Special Counsel appointed by the Wisconsin Assembly to investigate the crimes of the 2020 Election did an outstanding job. He discovered many pieces of evidence that indicate foul play. Anyone calling themselves a Republican in Wisconsin should support the continued investigation in Wisconsin without interference. After all of the evidence the report brought to light, how could anyone want to stop it? I understand some RINOs have primary challengers in Wisconsin. I'm sure their primary opponents would get a huge bump in the polls if these RINOs interfere.
Statement by Donald J. Trump, 45th President of the United States of America
Kari Lake is doing an incredible job running for Governor of the Great State of Arizona. She is fearless and is way ahead in the polls. Very honored to say that she has my Complete and Total Endorsement. Keep going, Kari!
ADVERTISEMENT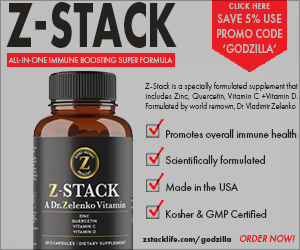 Dr. Vladimir Zelenko has been included in a group of doctors nominated for the Nobel Peace Prize for their role in addressing the coronavirus pandemic.
If the last 18 months have taught us anything it's that YOU have to take control of your own health. You can't rely on the government or big pharma. That's where Z-STACK comes in. Z-STACK is a specially formulated supplement that includes Zinc, Quercetin, Vitamin C, and Vitamin D. Formulated by Dr. Vladimir Zelenko the world-renowned doctor that President Trump credited with his successful early treatment protocol and his decision to take hydroxychloroquine. Go to https://zstacklife.com/godzilla and order today!