TMTG CEO Devin Nunes joins Fox News' Maria Bartiromo to discuss the latest news regarding Truth Social, on April 29, 2022.
WATCH NOW:
Statement by Donald J. Trump, 45th President of the United States of America
The New York Times said today, in a major article, "Segments featuring Fox's own reporters consistently drew lower ratings, especially if they were covering stories the audience deemed unfavorable to Mr. Trump."
The primary thing they don't want to talk about is the 2020 Rigged Presidential Election. It's all about that from the Laptop from Hell, to the ballot harvesting scandal, to the Zuckerberg Facebook Unlocked boxes, to cancellation by Big Tech. It's all having to do with the Election, the most important thing they have ever done, because that's the one subject they just don't want to talk about. It was too corrupt, it's now been proven, and they just want to skate by—they just want this subject to end.
Mitch McConnell and his RINO friends would rather see a Democrat like Biden be president than a Republican like me. It works better for him and his agenda, but it doesn't work better for our Country. He should have done something about it, and he still should. When a thief robs a jewelry store and gets caught, they have to give back the jewelry. Think of it: The election was rigged and stolen, we found out how, and Republican leadership doesn't want to do anything about it. They say, "Sir, you're winning in a landslide, both against Republicans and Democrats. Think to the future, sir. Think to the future." To which I say, "You can never think to the future until we solve the past, because it will just happen again."
Everybody go out and study True the Vote and all of the information about illegal ballot harvesting, millions of votes, that's coming out next week. Also, check out the Dinesh D'Souza documentary, "2000 Mules," about this scam. You will come away a different person, and say to yourself that our Country's elections are run worse than those of a third world nation.
Statement by Donald J. Trump, 45th President of the United States of America
Ratings for the Piers Morgan interview with me were great! Unfortunately, after that interview, his show bombed completely because of the fake narrative he tried to portray. The fact is, I got a new close-up glimpse at Piers, and he no longer has what it takes. It's over for him!
Read article from Breitbart here.
ADVERTISEMENT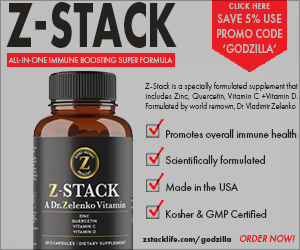 Dr. Vladimir Zelenko has been included in a group of doctors nominated for the Nobel Peace Prize for their role in addressing the coronavirus pandemic.
If the last 18 months have taught us anything it's that YOU have to take control of your own health. You can't rely on the government or big pharma. That's where Z-STACK comes in. Z-STACK is a specially formulated supplement that includes Zinc, Quercetin, Vitamin C, and Vitamin D. Formulated by Dr. Vladimir Zelenko the world-renowned doctor that President Trump credited with his successful early treatment protocol and his decision to take hydroxychloroquine. Go to https://zstacklife.com/godzilla and order today!