When it comes to the 2024 presidential election, Republicans are far more enthusiastic about former President Trump running again than Democrats are about President Biden gaining a second term, new data from the December I&I/TIPP Poll show. It's yet another sign that a mere 11 months into his term, Biden's support remains surprisingly weak within his own party.
The I&I/TIPP Poll gave respondents the names of Trump and 15 other possible Republican candidates, asking "Who do you want to see run for president on the Republican ticket in 2024?" We asked the same question for the Democrats. We wrote about those results last week here and here.
In our poll, 24% of those queried in whatever party said they wanted President Trump to run again, while 22% said they wanted Biden to do so.
But the apparent closeness of the support for the two possible candidates may be deceptive. A closer look at the data shows a wide disparity in actual support for the two candidates within their own parties.
As the poll numbers clearly show, Trump's support within the Republican Party is far stronger than Biden's within the Democratic Party. Among Republicans, 60% said they wanted Trump to run again for president in 2024. In contrast, just 37% of Democrats wanted Biden to run again in three years, a devastating sign of Biden's weakening support within his own party.
Among independents, 17% express support for a Trump run in 2024, compared to just 8% for Biden, a worrisome data point for Democrats hoping to attract swing voters in coming elections.
Read the full article by Terry Jones with Issues & Insights here.
ADVERTISEMENT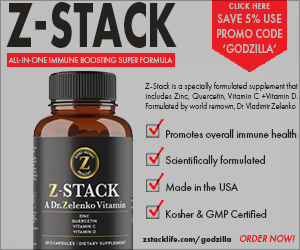 Dr. Vladimir Zelenko has been included in a group of doctors nominated for the Nobel Peace Prize for their role in addressing the coronavirus pandemic.
If the last 18 months have taught us anything it's that YOU have to take control of your own health. You can't rely on the government or big pharma. That's where Z-STACK comes in. Z-STACK is a specially formulated supplement that includes Zinc, Quercetin, Vitamin C, and Vitamin D. Formulated by Dr. Vladimir Zelenko the world-renowned doctor that President Trump credited with his successful early treatment protocol and his decision to take hydroxychloroquine. Go to https://zstacklife.com/godzilla and order TODAY!