Read the full memo from Harvard/Harris

here

.
Harvard/Harris: Second GOP Primary choice (without Trump)
DeSantis 29% (-12 from June)
Ramaswamy 19% (+12)
Pence 13% (-2)
Scott 5% (-1)
Haley 5% (-2)
Christie 2%
Harvard/Harris | RVs | 07/19-20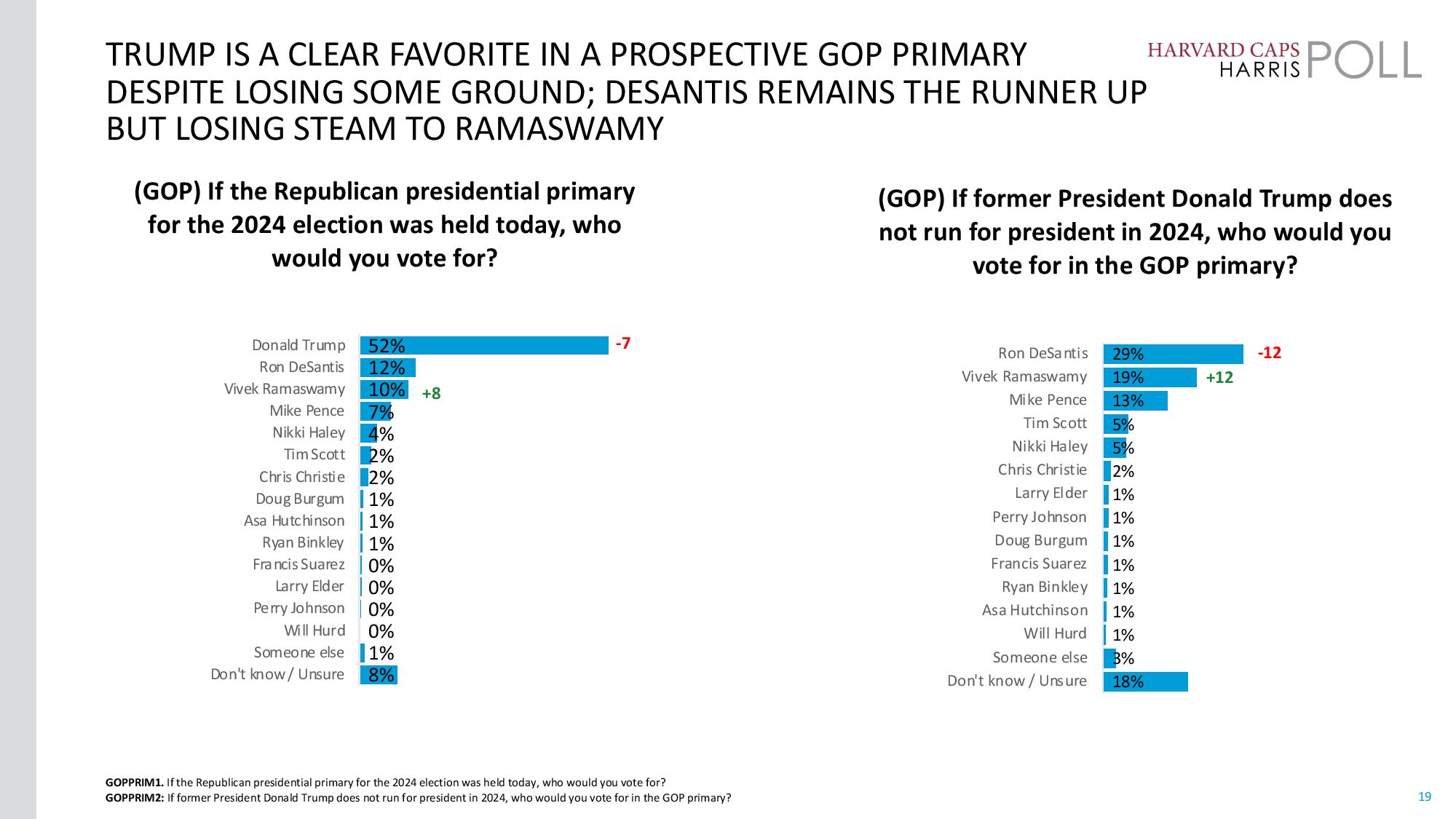 ICYMI: "Iowa poll shows Scott gaining on DeSantis; Trump with commanding lead"
Read the story by Brett Samuels of The Hill

here

.
Polling Memo from John McLaughlin to Trump Campaign's Jason Miller
Bedminster, NJ — The Donald J. Trump for President campaign released the following memo from McLaughlin & Associates' John McLaughlin to Trump Campaign's Jason Miller:
To: Jason Miller, Trump 2024
From: John McLaughlin, McLaughlin & Associates
Date: July 21, 2023
Re: Flawed Mediaite Analysis of Monmouth Poll
The Mediaite spin of the poll fails to account for serious pro-Biden Democratic skews against President Trump and Republicans.
This is not a sample of likely voters. It's a sample of adults pared down to self-identified registered voters. They do not use a voter list and do not model it to reflect the past presidential election.
Per their own methodology it's a "random sample of 910 adults age 18 and older." "Telephone numbers were selected through a mix of random digit dialing and list-based sampling." The full sample is weighted for "US Census information" which, according to the exit polls, is significantly different than actual 2020 voter turnout.
Since they randomly dial phone numbers and do not use a voter list, the sample under polls Republicans and therefore Trump voters.
Only 27% of the respondents are Republicans. According to media exit polls, Republicans have not been less than 30% of the actual presidential vote since way back in the 20th century. In 2020 according to the exit polls Republicans were 36% of the vote. Therefore, Republicans and Trump voters are too low by 8 or 9 points.
In 2021, days before the New Jersey Governor's race this methodology gave Phil Murphy an 11-point lead over challenger Jack Ciattarelli. It turned out to be a 3-point difference on election day.

Murphy Maintains Lead | Monmouth University Polling Institute | Monmouth University 
This survey under polls Trump voters and should be discounted by adding 8 or 9 points to the Republicans and President Trump's vote total. Mediaite needs to analyze polls based on actual voter history.