Four Republicans, led by GOP Conference chair Rep. Elise Stefanik (R-NY), held a press call Monday to deliver the party's messaging on the riot, which Pelosi is currently probing through her Democrat-led select committee.
"This partisan sham committee is not focused on answering the most important questions of why the Capitol was left unprepared that day and how we can ensure this never happens again," Stefanik began.
"Most importantly, the American people deserve to know what the mainstream media refuses to cover: The fact that the only office that is off-limits to this partisan sham investigation is Speaker Pelosi's office," Stefanik continued. "This is a political weapon, and it's used to cover up for Nancy Pelosi's failures."
House Administration Committee ranking member Rep. Rodney Davis (R-IL), who was also on the call, detailed a letter he wrote to Pelosi on Monday demanding the security officials who ultimately report to her — the House Sergeant-at-Arms and the House Chief Administrative Officer — comply with Republican requests for information about how the Capitol was protected on January 6.
Read the full article by Ashley Oliver with Breitbart here.
ADVERTISEMENT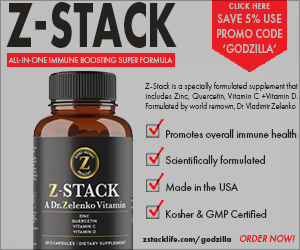 Dr. Vladimir Zelenko has been included in a group of doctors nominated for the Nobel Peace Prize for their role in addressing the coronavirus pandemic.
If the last 18 months have taught us anything it's that YOU have to take control of your own health. You can't rely on the government or big pharma. That's where Z-STACK comes in. Z-STACK is a specially formulated supplement that includes Zinc, Quercetin, Vitamin C, and Vitamin D. Formulated by Dr. Vladimir Zelenko the world-renowned doctor that President Trump credited with his successful early treatment protocol and his decision to take hydroxychloroquine. Go to https://zstacklife.com/godzilla and order TODAY!