Georgia authorities have launched an investigation into an allegation of systematic ballot harvesting during the state's 2020 general election and subsequent U.S. Senate runoff and may soon issue subpoenas to secure evidence, Georgia Secretary of State Brad Raffensperger confirmed to Just the News.
Georgia law strictly prohibits third-party activists from picking up and delivering ballots on behalf of voters, a tactic called "harvesting" that liberal organizers have tried to get legalized in many battleground states without success. The U.S. Supreme Court this summer rejected Democrat efforts to overturn an Arizona law that outlawed harvesting in the battleground state.
Raffensperger, who is seeking reelection in 2022, led a successful effort in 2019 to strengthen Georgia's prohibition against harvesting ahead of the 2020 presidential election and defeated an effort by prominent Democrat lawyer Marc Elias to overturn the harvesting ban. Raffensperger also reviewed and rejected claims by former President Donald Trump of widespread fraud during the 2020 election in a series of contacts under investigation by a local district attorney in Atlanta and the Jan. 6 select committee in Congress.
According to interviews and documents reviewed by Just the News, Raffensperger's office received a detailed complaint from conservative voter integrity group True the Vote on Nov. 30 saying it had assembled evidence that scores of activists worked with nonprofit groups to collect and deliver thousands of absentee ballots, often during wee-hour operations, to temporary voting drop boxes distributed around the state during the pandemic.
The group informed the secretary its evidence included video footage from surveillance cameras placed by counties outside the drop boxes as well as geolocation data for the cell phones of more than 200 activists seen on the tapes purportedly showing the dates and times of ballot drop-offs, according to documents reviewed by Just the News.
Read the full report from John Solomon, Just the News.
ADVERTISEMENT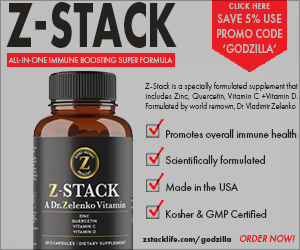 Dr. Vladimir Zelenko has been included in a group of doctors nominated for the Nobel Peace Prize for their role in addressing the coronavirus pandemic.
If the last 18 months have taught us anything it's that YOU have to take control of your own health. You can't rely on the government or big pharma. That's where Z-STACK comes in. Z-STACK is a specially formulated supplement that includes Zinc, Quercetin, Vitamin C, and Vitamin D. Formulated by Dr. Vladimir Zelenko the world-renowned doctor that President Trump credited with his successful early treatment protocol and his decision to take hydroxychloroquine. Go to https://zstacklife.com/godzilla and order TODAY!