Truncated article from Politico. Read the full article here.
Georgia's chief elections officer has stacked up appearances on conservative radio and other media in recent months — taking lumps over his break with Donald Trump in an effort to rebuild his standing in the GOP ahead of his 2022 campaign.
Brad Raffensperger has been omnipresent in the conservative press lately, ranging far into the MAGA territory where he's been taking hits for months. The secretary of state has gone on Fox News, local talk platforms, former White House press secretary Sean Spicer's Newsmax show and the radio program hosted by John Fredericks, Trump's two-time Virginia campaign chair and the self-declared "Godzilla of Truth."
…
But whichever medium he's in, Raffensperger is not backing down from his actions during and after the 2020 election.
He regularly defends his office and the security of Georgia's elections from right-wing conspiracy theories, saying the reason Trump lost the election was because that was the voters' will, not because of baseless allegations of fraud.
"Our side is grieving, and we're shocked," he said during an affable conversation with Solomon, in which he detailed allegations of fraud that his office chased down. "But what really happened in Georgia is 28,000 Georgians skipped the presidential ballot, and yet they voted downballot. And in Republican congressional areas, Republican congressmen got 33,000 more votes than President Trump. And that's really what happened in Georgia."
That oft-repeated explanation has done little to placate some furious callers on the shows, who have phoned in to vent at Raffensperger. The election official has stayed measured while batting their complaints aside.
"It was misinformation of the highest order, and I'm sorry that people misled you. But it was them that misled you, not our office," he told one caller on Fredericks' show, who brought up the infamous "suitcase full of ballots" conspiracy.
Truncated article from Politico. Read the full article here: https://www.politico.com/news/2022/02/24/raffensperger-georgia-reelection-conservative-media-00011224
ADVERTISEMENT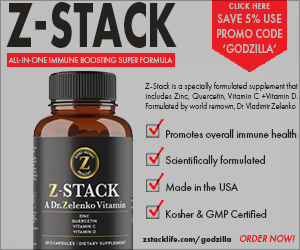 Dr. Vladimir Zelenko has been included in a group of doctors nominated for the Nobel Peace Prize for their role in addressing the coronavirus pandemic.
If the last 18 months have taught us anything it's that YOU have to take control of your own health. You can't rely on the government or big pharma. That's where Z-STACK comes in. Z-STACK is a specially formulated supplement that includes Zinc, Quercetin, Vitamin C, and Vitamin D. Formulated by Dr. Vladimir Zelenko the world-renowned doctor that President Trump credited with his successful early treatment protocol and his decision to take hydroxychloroquine. Go to https://zstacklife.com/godzilla and order TODAY!